Wing Bank and JRF Korea join forces to provide international money transfer from South Korea to Cambodia
May 16, 2023
JRF Korea and Wing Bank partner up for seamless and secure money transfers for Cambodians residing in South Korea.
Wing Bank (Cambodia) Plc – the bank for every Cambodian – has recently announced a strategic partnership with Japan Remit Finance Co., Ltd. (Korea), one of the fastest-growing fintech companies in South Korea. The collaboration will provide Cambodians residing in South Korea giving them more options with a remittance service that is accessible, efficient and secure.
Wing Bank and JRF Korea signed the memorandum of understanding (MoU) establishing their strategic partnership at the trusted international remittance provider's office in Seoul, the South Korean capital. The MoU was signed by Vattanak Phakdey Chhun, Deputy CEO of Wing Bank, and Philip (Seong-Hwan) Park, COO of JRF Korea, and witnessed by a number of distinguished guests in attendance at the ceremony.
"Our partnership with JRF Korea is more than just providing a remittance service. It is about supporting and making a positive impact on the lives of hardworking Cambodians residing in South Korea and their families," said Vattanak Phakdey Chhun.
"We are committed to making a difference by ensuring that their families can safely and conveniently access their hard-earned money from anywhere, anytime in Cambodia," he added.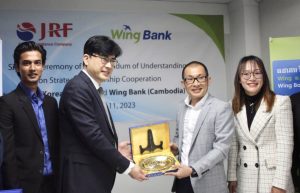 The partnership offers a convenient and secure way for Cambodian residents in South Korea to send money home. They can easily initiate a transfer by visiting any of JRF Korea's branches or counters, and then selecting whether to transfer funds via account-to-account, allowing their families to receive cash directly into their Wing Bank account that they can view on the Wing Bank app. If they choose cash pick-up, an eight-digit code will be given that their family can use to withdraw the funds at any of over 11,000 Wing Cash Xpress agents across Cambodia.
New users with JRF Korea can also enjoy up to two free transactions as part of a special promotion offer.
"We are delighted to be working with Wing Bank to bring our innovative remittance solutions to Cambodians residing in South Korea," said Philip Park. "This partnership reflects our shared commitment to providing affordable, reliable and fast remittance services to customers across borders."
Philip Park spoke of his optimism regarding the benefits the partnership will bring. "We look forward to a fruitful collaboration with Wing Bank, and to making a positive impact on the lives of Cambodian communities," he said.
Wing Bank has a strong presence in Cambodia with more than 11,000 agents across the Kingdom, as well as bank branches in strategic locations equipped with ATMs for free cash withdrawals. More branch offices are expected to open in 2023.
Wing Bank provides an array of advanced financial products that includes loans, deposits, micro-savings, credit referral services, money transfers, utility and insurance payments, supply chain payments, payroll services and even phone top-ups.
JRF Korea is a reputable remittance provider based in South Korea, offering a wide range of fast, secure and convenient money transfer services both locally and internationally. With a strong focus on customer satisfaction and compliance with relevant laws and regulations, JRF is committed to providing excellent customer service and maintaining its trusted reputation in the remittance industry.
The strategic partnership between Wing and JRF Korea is a significant step towards expanding the reach of both companies in the international remittance market.
Cambodian residents in South Korea play a crucial role in supporting their families back home through remittances. According to figures from the Kingdom's Ministry of Labour and Vocational Training as reported by local media, there are approximately 46,000 Cambodians working in South Korea, with 23 percent of them women. Annually, they send an estimated $500 million in remittances home to their families in Cambodia.