What is Wingcoin?
Wingcoin - the coolest customer loyalty program in Cambodia is finally here! Now you can earn Wingcoin when you pay for your dining, shopping, traveling, and more with WingPay QR/Wing Bank KHQR
How to earn Wingcoin?

Earn Wingcoin
Paying for your shopping, dinning, traveling, and more via Wingpay or Wing KHQR.

Get rewarded
Get Wingcoin back for every amount you spend based on the merchant participation.

Wingcoin validity period
Your Wingcoin will be valid for 12 months (starting from the earning date).
How to redeem Wingcoin?
Wingmall has more than 1,000 well-known merchants that sell thousands of items, including, food, drinks, groceries, electronics, toys, beauty products and many other goods.
How do you redeem with your Wingcoin?

You can pay with your Wingcoin at any of the participating merchant outlets by scanning the Wing Bank QR code.

Where can I collect Wingcoin?

You can collect Wingcoin and pay them inside Wingmall for any of the 100,000+ SKUs that are available.

Can I pay my Wingcoin for Phone Top Up?

You can also pay your Wingcoin for Phone Top Up.

Can I earn Wingcoin even when I paid?

You will earn Wingcoin even when you redeem them at any of the participating merchants –more rewards on top of rewards!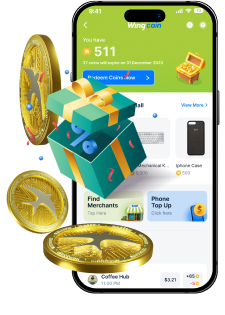 Be a Wing Merchant
Need to grow your business faster?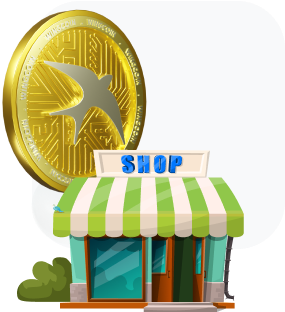 You are in luck! By joining the Wingcoin loyalty program, you will become a member of Cambodia's most significant partnership rewards program that helps connect you to your customers faster through your promotions partnered with Wingpay.
Terms & conditions
This feature applies to full KYC accounts only
The feature is exclusive for Wing Bank App's users only
Both KHR & USD wallets are eligible
The Wingcoins can be earned via Wingpay QR/Wing Bank KHQR only
The number of Wingcoins received based on merchant participation types
Wingcoins have a validity period of 12 months (starting from the earning date)
Wingcoins cannot be transferred, exchanged or converted into e-Wallet or cash
How can we help you?