Wing Mastercard World
Wing Mastercard World is a digital debit card with the most incredible design of pure metal material. It provides the best experience for Wing VVVIP customers and offers the overdraft option, allowing customers to use it even if their account has no balance (OD T&Cs are applied).

You can use your Wing Mastercard World at any accepted merchant outlets worldwide, make online purchases and withdraw at any ATM which Mastercard accepts. On top of that, cardholders can enjoy unlimited airport lounges access, which is available to more than 1,300 airports around the world.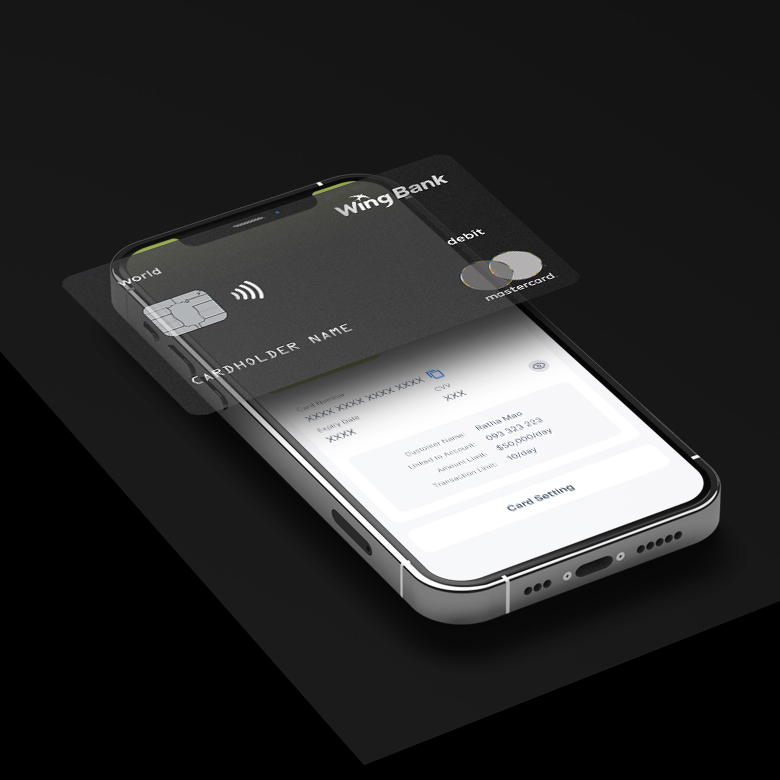 The Benefit of Using Wing Mastercard World
Benefits
For Wing MasterCard World only
Plaza Premium Airport Lounge
Access more than 1,300 airport lounges in global
Unlimited access for Cardholder
Wing Premier Lounge
Access Wing premier lounge
Unlimited access for Cardholder
One Night Free Program*
Offer a complimentary night's luxury accommodation
Access One Night Free at a collection of participating hotels.
One Dines Free*
Great meals deserve great company.
Enjoy one complimentary main course when dining at
partner restaurants in major cities across The Asia Pacific
Mastercard Southeast Asia Golf*
Enjoy the freedom to play on any of our world class
courses courtesy of Mastercard.
50% Off at Southeast Asia Golf Club,
Effortless with Mastercard Airport Concierge
TPC Golf Program*
Gain VIP access to some of the world's most
famous golf courses
Enjoy the golf experience of a lifetime with the chance
to tee off and play on the world famous TPC golf
courses where the PGA TOUR professionals play.
You also can enjoy the following exclusive privileges:
✓ TPC Private Club Access
✓ TPC Resort VIP
✓ PGA TOUR Player Experience
Pay Now Travel Later*
Stay in control with your future travel plans
Book your next business or leisure trip in advance with
confidence as you can fly later with the flexibility of a 1
time free waiver to change your travel dates within 1 year
of travel validity
Overdraft
Up to limit USD 25K for Cardholder
Mastercard Concierge Service*
Expert advice and tailored support at your service
Whenever you need assistance planning a business or
leisure trip, the MC concierge is on hand to help.
Peace of Mind*
Mastercard ID Theft Protection
Monitors the deep dark and surface web; Provides alerts
and full identity restoration service; and Secure.
Mastercard Travel & Lifestyle Services*
Enjoy a wide array of curated global offers and
experiences
✓ Luxury Hotels and Resorts
✓ Hotel Stay Guarantee
✓ Lowest Hotel Rate Guarantee
✓ Air Program
✓ Car Rental and Cruise Program
✓ Vacation Package
Zero Annual Fee with Overdraft Benefit
- By just maintaining your balance with Wing Bank Mastercard World
- Overfraft: Up to limit of USD 25K for Cardholder
Terms & Conditions  
Cardholders with USD 500K or more will receive free cards without annual fees 

On the annual fee date:
If the cardholder still has USD 500K, the annual fee will not be charged.

If the cardholder has a balance of less than USD 500K, the annual fee will be charged.
If the cardholder has zero balance or a remaining balance less than the annual fee (USD 999), we will give a grace period of the three-month. After that, the card will be closed.
Fee charge of Wing Digital Mastercard World
CARD SERVICE FEES & LIMITATIONS
 
Card Annual Fee
USD 999
Purchase Limit Amount per day (POS/eCom)
USD 500,000
Purchase Transaction Limit - per day (POS/eCom)
Unlimited
Online Purchase Fee- per txn
Free
Cash Withdrawal Limit Amount per day (Allowed channels)
USD 50,000 
Maximum Cash Withdrawal Transactions - per day
10 times
Cash withdrawal Fee at Own Bank's ATM - per txn
Free
Cash Withdrawal at other Banks's ATM - per txn
2% of amount withdrawal, min USD5
Purchase/Cash Withdrawal in non-USD - per txn
2.5% for currency conversion
Transaction Decline at Own Bank's ATM - per txn
Free
Transaction Decline at other Bank's ATM/POS/eCom - per txn
Free
Balance Inquiry at other Bank's ATM/POS - per txn
Free
Card replacement fee - per time
USD 599
Change Card  PIN - per txn
Free
Card Issuance Limit (Per CIF)
1 Card
Mastercard Offer
Core Program++++
Welcome Pack
 Plaza Premium Lounge (Global Airport Lounge) - Unlimited
Wing Premier Lounge