Cambodia Asia Travel Expands its Ticket Payment Service with Wing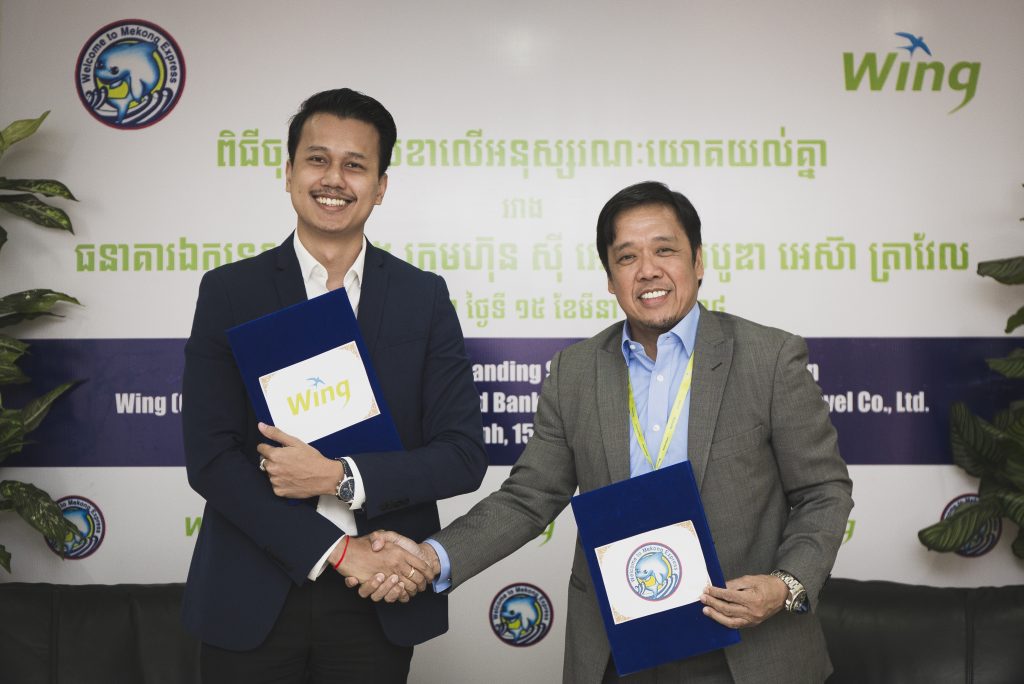 What's New
April 9, 2018
Phnom Penh, March 15, 2018: Wing (Cambodia) Specialized Bank together with Cambodia Asia Travel or a.k.a. Mekong Express signed a Memorandum of Understanding (MOU) today to expand Mekong Express' bus ticket payment facilitation. The MOU is signed by Mr. Nhim Kal Reaksmey, CEO of Cambodia Asia Travel and Mr. Jojo Malolos, CEO of Wing (Cambodia) Specialized Bank.
The partnership of Wing and Mekong Express open up doors for customers to experience an innovative and convenient payment solution which allows them paying their Mekong Express seats or bus tickets directly to any of Wing's 5000 Cash Xpress networks, Wing Money Mobile App, Wing *989# USSD code, Pay with Wing QR code, and online using Wing's Card and Wing Online Mastercard. Making it convenient, without the hassle of queuing up, struggling with the current traffic and more.
With Wing's innovative payment solution, customers can book their ticket anytime anywhere the possibilities are limitless.
"We believe that we are opening up possibilities for the people and we also help drive the economic growth of Cambodia as a whole. This is in line with our mission to deliver robust and cost-effective mobile money services that promote financial inclusion, catalyze growth and reduce social inequalities" said Jojo Malolos on his speech during the signing ceremony.
On the same occasion, Mr. Nhim Kal Reaksmey, C.A.T. Mekong Express CEO also said "We are happy to be partnering with Wing in providing cashless payment service, we believe that it would help achieved economic growth. We are confident that this partnership will benefits our customers and will provide speed and accessibility. Imagine paying your bus ticket without being there, that for us is a total convenience."
Wing and Mekong Express share the same values, they always look for ways to meet the needs of their customers and help make their lives run more smoothly. Cambodians and expats are increasingly realizing the value of digital payment services this is apparent even in bus ticket payment.
Today, Mekong Express also announced the dollar discount promotion per bus ticket when payment is done through Wing. Both Mekong Express and Wing believes that this would drive customer to try the new payment channels.
Mekong Express travels daily in Phnom Penh, Siem Reap, Battambang, Ho Chi Minh City, Bangkok and more. They also provide Private VIP transportation for their customer.