News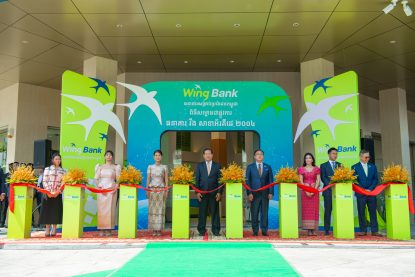 Wing Bank opens new branch in front of Orkide The Royal along Street 2004
Read More
Promos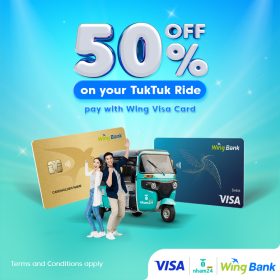 Enjoy 50% off on your ride on Nham24 with Wing Visa Card
Read More
EXCHANGE RATES
IN KHMER RIEL
Updated as of : 31 March 2023
INDICATIVE RATES FOR INTERNATIONAL OUTBOUND SERVICE
| | Sell |
| --- | --- |
| USD/THB US Dollar / Thai Bhat | 33.72 THB |
| USD/VND US Dollar / Vietnamese Dong | 23,195.70 VND |
| USD/PHP US Dollar / Philippine Peso | 53.71 PHP |
| USD/CNY US Dollar / Chinese Yuan | 6.77 CNY |
| USD/KRW US Dollar / Korean Won | 1,280.97 KRW |
Updated as of 30 November -0001
Opening your Wing Bank Account is Easy!
Choose among these 4 ways to open an account:
At a Wing Bank Branch
Wing Master Agents
Selected Agents
Via the Wing Bank App
You can open your account in either Khmer Riel or US Dollar.
Introducing the NEW Wing Bank Digital MasterCard Platinum & Standard Cards
Open your Wing Bank Account now!
Wing Visa Gold Credit Card: Limit up to USD 5,000 Wing Visa Platinum Credit Card: Limit up to USD 50,000
Wing Visa Gold and Platinum Credit Card
Wing Bank Visa credit cards enable you to get access to the Bank's funds, covering your daily expenses, unexpected purchase, or occasional trip abroad, and bringing convenience to repay the borrowed amount later.
In addition, you can smooth your cash flow and enjoy an interest-free grace period of up to 55 days. Plus, various discount programs and exciting promotions from both Wing Bank and Visa worldwide.