Introducing the Wing Merchant App
Wing Bank is proud to unveil the latest version of our Wing Merchant app, ushering in a new era of digital banking and transforming the market landscape. Our updated app is designed to offer merchants a specialized and seamless experience, empowering businesses of all sizes to embrace cashless payments and streamline their operations.
Watch the Video Guide:
Merchant Benefits
Unlock a World of Opportunities
When you join as a Wing Merchant today, you gain access to a diverse range of merchant services and payment processing solutions that will propel your business forward and enable secure and efficient payment acceptance from your customers. Explore the myriad benefits awaiting you:
5% interest rate
Enjoy a generous 5% interest rate on your merchant savings account.

Free of charge
Seamlessly transfer up to $150,000 daily from Wing Account to Wing Account, free of charge.

Transfers of up to $50,000
Conduct free transfers of up to $50,000 daily from your Wing Bank account to ANY Bank Account in Cambodia.
Telegram Notification
Instant Payment Alerts for Ultimate Peace of Mind In the dynamic world of business, instant payment notifications are crucial to ensuring accurate transactions. With the Wing Merchant app, you can now receive instant payment notifications in your Telegram group, ensuring that you and your staff are always alerted when a customer makes a payment. This flexibility empowers you to manage your business from anywhere.
Watch the Video Guide: How to Link to Telegram
Merchant Report
Elevate Your Business Insights
As a business owner, understanding sales performance and customer preferences is paramount. Our Wing Merchant app equips you with the tools you need to make informed decisions, scale your business effectively, and gain valuable insights.
Explore the benefits of the Wing Merchant report:

Reporting dashboard
Access a daily comprehensive reporting dashboard.

Monitor customer behavior
Monitor customer behavior, including the ability to define gender and age.

Review data from the past
Review data from the past three months to make data-driven decisions.

Performance vs competitors
Provide insight into sales performance vs competitors in similar businesses.
Outlet Management
outlet management on the Wing Merchant app is a powerful tool that can help businesses of all sizes to improve their efficiency, profitability, and customer satisfaction.
Outlet management on the merchant app allows you to: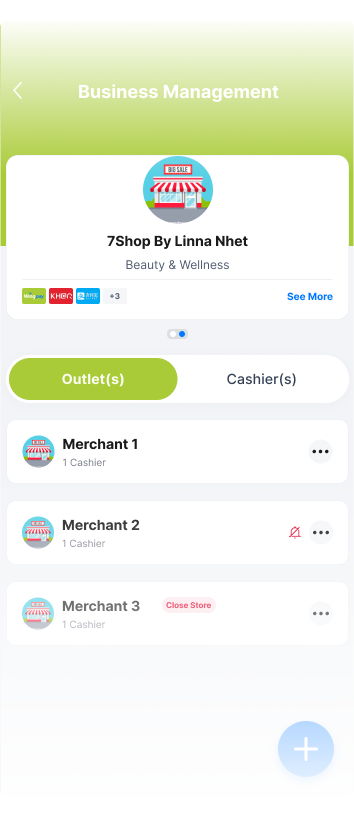 Centrally manage all your outlets
From a single app, including creating new outlets, updating outlet information, and managing outlet cashiers.

Optimize cashier management
Our new feature allows your staff to effortlessly generate QR codes and accept payments from customers while specifying the payment amount beforehand. This feature simplifies staff management and schedule optimization. Furthermore, you can now track sales per employee, hours worked, and sales per time slot, gaining invaluable insights into your business performance.

Gain valuable insights into your business performance
By tracking sales data at the outlet, employee, and time slot levels. This information can be used to identify trends, improve profitability, and make better business decisions.