Changing the Way Cambodians Commute, Wing Partners with PassApp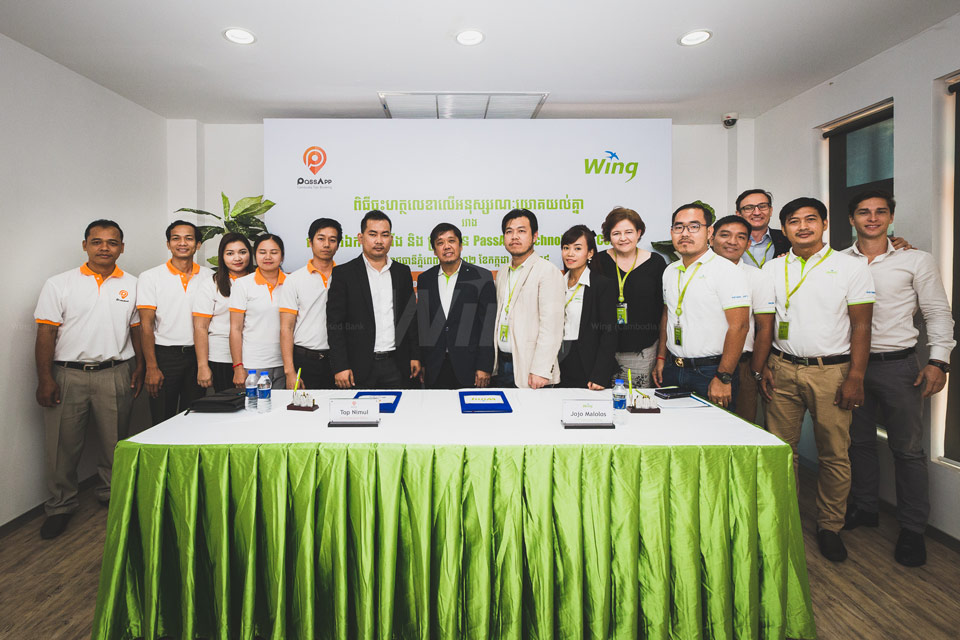 What's New
July 2, 2018
Phnom Penh – July 02, 2018: PassApp and Wing customers can now travel hassle-free around Phnom Penh as both companies today enter into MoU agreement in offering a fast and convenient way of paying their fare. Wing equips "Pay with Wing" QR payment in more than 3,000 rickshaws in the city allowing Phnom Penh residents to pay their travel within a tip of their finger through Wing.
Once the customers arrive their destination, they can just inform the rickshaw driver that they would like to pay the travel cost via Wing. There, PassApp driver will show "Pay with Wing" QR code installed on their rickshaw. Such offer requires the customers to have Wing account and perform payment through USSD Code *989# or Wing Mobile App installed on their phone in advance so they can scan the QR code or type the TIL number and pay.
Speaking at the MoU signing agreement, Wing Chief Executive Officer, Jojo Malolos said the partnership will open a new possibility for thousands of Phnom Penh residents, who are making use of the Wing services to improve their daily lives, an experience of cashless travel around the city.
"Our product and services are meant to provide solutions to what our consumers are facing. The introduction of 'Pay with Wing' on PassApp rickshaws is a response to the challenges everyone is facing in terms of preparing physical money or storing smaller bills, and most of all, safety," Mr. Malolos said.
Mr. Top Nimul, CEO of riding-hail service PassApp said the partnership is one of company's commitment to ensure that their existing customers are progressing into a new era of technology during the whole process of their travelling – from booking in just minutes and paying the bill within a click.
"We are also doing our best improve our rickshaw drivers' capability in financial management. As the travel payment goes into their Wing account, they will be able to better track and look at report of their income. In addition, some drivers will find it safer since they don't need to worry about any robbery as they provide service or make their journey home at night," Mr. Top said.
To congratulate the partnership, passengers riding PassApp rickshaw will receive 50% cash back or up to 1$ when they "Pay with Wing" after their rides. The promotion will be provided on a limited availability at any PassApp rickshaws having Wing's QR code from today until July 26, 2018.
In order to use Pay with Wing service, customers are required to have a Wing account. Getting a Wing account can be done in an instant. Customer can download the WingMoney app or dial USSD Code *989# and fill in the required information, or go to any Wing Cash Express agent to get an account. They also need to cash-in at any of Wing's agent nation-wide. With Wing's account, customers can choose various option of cashless payment such as bill payment, online payment, phone top-up, money transfer, and more.
About Wing
Wing (Cambodia) Limited Specialised Bank is Cambodia's leading mobile banking service provider and one of the few specialised banks in the world. Established in 2009 Wing has transformed the way Cambodians send and receive money using a mobile phone with ease from and to any location.
Wing is committed to provide financial inclusion via mobile banking services to the unbanked and under-banked, allowing every Cambodian to have access to local money transfer, instant international money transactions in more than 50 countries, phone top up and bill payments.
Wing's success was recognised when it was named 'Best Mobile Payment Solution Cambodia' in the prestigious Global Banking & Finance Awards 2017. Wing remains at the forefront of the mobile money and electronic payment services market in Cambodia with 100% district coverage via a nationwide network of 5,000 Wing Cash Xpress outlets. It has partnerships with more than 6,000 merchants and global industry leaders including Mastercard and WorldRemit.
Wing also provides funds and payment solutions to the corporate sector via enterprise services. Small and medium enterprises (SMEs) and companies can use Wing's payroll and disbursement services for their employees, helping to grow and spread payment ecosystems.
MEDIA CONTACTS