Made for Tripper!
Enjoy Free Grab Ride with Wing Online Mastercard!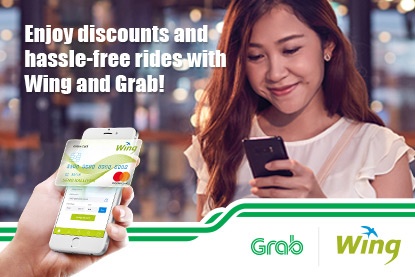 What's New
July 16, 2018
Phnom Penh – July 16, 2018: Going around the city became easier and convenient with Grab, but have you ever think of how to make your trip fancier? Now with Wing Online Mastercard and Grab, travelling around town is truly hassle free. All you have to do is just connect your Wing Online Mastercard to Grab and you can simply ride and go. When you order your ride with Grab you don't need to worry on the payment, small bills or change, the fare is deducted in real time from your Wing Account. So when you arrive at your destination you can just go because your fare has been settled. What makes it more exciting is the free ride, with Wing Online Mastercard customers is entitled to two free Grab rides capped at 12,000 riels for new users and for current user customer can get 50% off for 20 rides. This offer is available from today until the end of 2018, as both companies entered into a partnership in providing a new level of mobile transportation payment.
For the first time Grab user, the first two rides capped at 12,000 riels, is available at the following transportation method offered by Grab, JustGrab, JustGrab+, GrabBike, Grab Remorque and Grab TukTuk, and is available to either in Phnom Penh or Siem Reap province. Once the customers link their Wing Online Mastercard into the Grab app, they can book their trip and enter the promo code "WINGMC3" and the system will automatically reduce the cost from their Mastercard once they arrive the destination.
Wing Chief Executive Officer, Jojo Malolos said the integration of Wing Online Mastercard and Grab is meant for customers who love to travel in style, they are smart and savvy and they hate bringing loads of cash with them.
"It is within our vision to provide cashless transportation environment. Total innovation is not within our reach if you use an app to travel, but then getting worried along the way about cash or small bill you have in your pocket. With Wing Online Mastercard, we will handle all the process of fare payment and you can relax and enjoy the view as you travel," Mr. Malolos added.
After the first free two rides, customers can continuously receive another 20 rides with 50% discount, capped at 8,000 riels by entering promo code "WINGMC50". This offer is available until the end of 2018 at both Phnom Penh and Siem Reap destination.
Existing Wing customers can easily activate their online Mastercard, in order to benefit from this promotion, by just clicking on button "online card" located inside Wing Mobile Money App. There, customers can fill and verify a few information, have enough balance to register for a card and a Mastercard is ready to use. Once their card is activated, besides linking to Grab app, customers can do so much more such as shopping at international stores, booking flight tickets, and many more.
The Wing Online Mastercard gives customers the power of instant, accessible and secure spending all within a few clicks on their mobile phones, opening up a new world of international shopping for even those who don't have a bank account. Customers subscribing to Wing Online Mastercard can enjoy various promotion such as 12% on Agoda.com booking. In addition, Wing will also conduct monthly lucky draw to select 10 winners, who transact using Wing Online Mastercard, receiving cash prize of 100$ per person.
Media Contacts