USAID, Wing Bank (Cambodia) Plc, and Boost Capital (Cambodia) Ltd will launch the Micro-loan Mechanisms & the Celebration of our Private Sector Partnerships.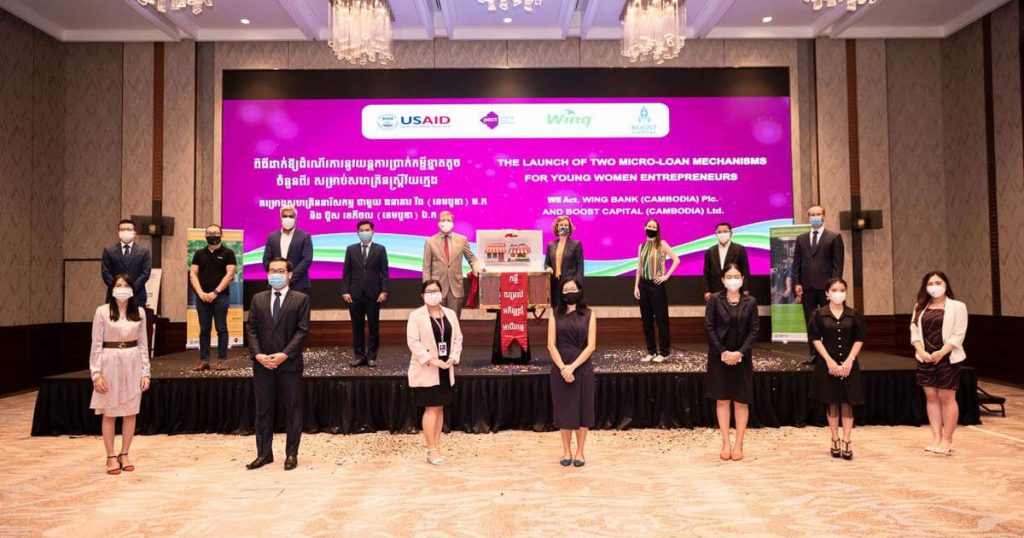 What's New
June 18, 2021
Young women entrepreneurs in Cambodia will benefit from special financial services as a result of a memorandum signed by the USAID-funded Women Entrepreneurs Act (WE Act) implemented by PACT, Wing Bank, and Boost Capital. The Memorandum of Understanding (MoU) provides affordable financial services and products to increase access to finance for underserved young women entrepreneurs (YWE) in Cambodia, especially, YWE with micro and small businesses that often do not meet eligibility criteria set by formal financial service providers and have been adversely impacted by the COVID-19 pandemic. U.S. Ambassador W. Patrick Murphy, WE Act Chief of Party Ms. Sabine Joukes, Wing Bank Deputy CEO Mr. Bunthe Hor, and Boost Capital Co-founder Lucinda Revell participated in signing event.
"Cambodia's female entrepreneurs are important players in the country's economy," said US Ambassador W. Patrick Murphy. "Ensuring they have all the resources they need to succeed will benefit all Cambodians by encouraging the economic growth needed to mitigate the effects of the pandemic."
"WE Act is proud that two very different private sector partners took up the challenge to design a product specifically addressing the two main issues of accessing finance; as regular micro financial institutions (MFIs) ask for registration and collateral – leaving many women entrepreneurs without access to affordable financing. We thank BOOST and WING Bank for their willingness to partner with us to the benefit of women entrepreneurs" said Sabine Joukes, Pact Cambodia Country Director and WE Act Chief of Party.
Partnering with the two digital financial services companies, Boost and Wing Bank, to design targeted products and services, WE Act will expand opportunities for young women entrepreneurs to access affordable financial resources. The initiative will offer preferential terms on productive loans to over 500 young women entrepreneurs and provides them with ongoing financial literacy resources to enable them to manage their businesses.
"Through this partnership, we will be able to offer financial assistance to women entrepreneurs across Cambodia who would otherwise be neglected, helping them to focus on growing and improving their business despite the Covid19 pandemic currently," said Hor Bunthe, Deputy CEO of Wing Bank. "Wing Bank is committed to our vision of providing every Cambodian with convenient access to financial services relevant to their daily lives."
Boost and Wing Bank will offer a unique loan-services catering for young women entrepreneurs who have unregistered businesses and do not have collateral while still offering a highly competitive interest rate. Boost's technology, deployed by the microfinance bank MIA PLC, allows female entrepreneurs to apply for a MIA loan anytime, anywhere, from their smartphone – saving both time and money and allowing these women to focus on growing their businesses, not waiting in line at the bank. Wing Bank will operate a hybrid model, offering loans through its vast agent network with nearly 10,000 agents nationwide and repayment through its digital platform, providing greater expediency and access for customers.
"These hard working female entrepreneurs want to access financing to grow their businesses. Applying for a loan from anywhere and at any time with our technology makes it easy and convenient for them to get a loan from an MFI they can trust to support their business needs. Through our MFI partners, we have already enabled over $1M in loans disbursed, and we're excited to further support women-led businesses." said Lucinda Revell, Co-Founder of Boost.