Wing and Almond Group Partner for Customer Cashless Payment Experience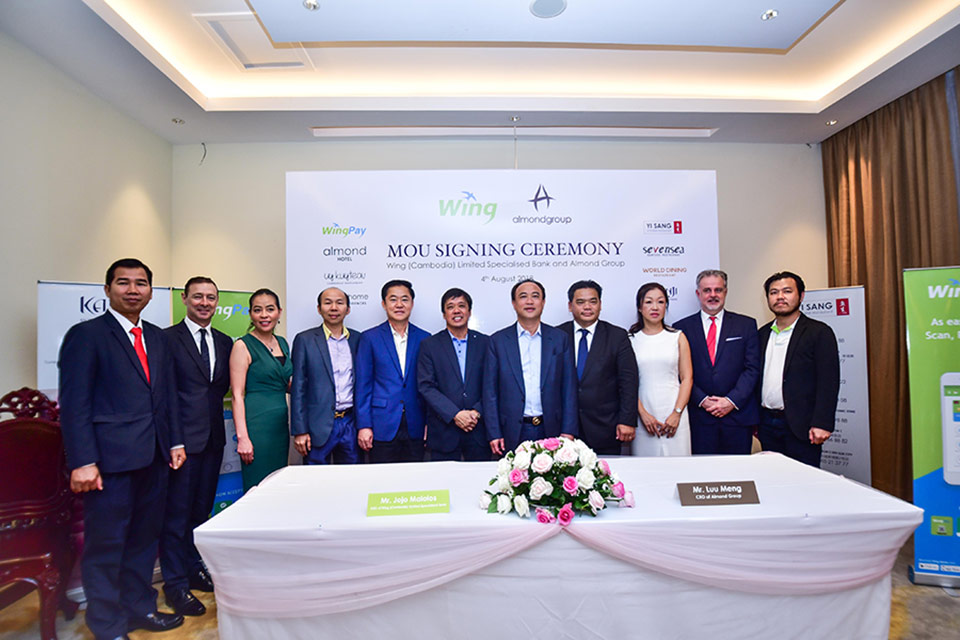 What's New
August 6, 2018
Phnom Penh – August 04, 2018: As its outlet restaurants receive a tremendous support from local population and international visitors, Almond Group today signed an MoU agreement with Wing (Cambodia) Limited Specialised Bank in order to provide customers with a new cashless payment experience in the kingdom.
Held at one of Almond Group outlets, Yi Sang The Garden Toul Kork, the partnership will result in the introduction of Wing's Online and QR payment service "WingPay" as well as the acceptance of payment via two major Chines mobile payment app "Ali Pay" and "WeChat Pay", powered by Wing, at 17 of Almond Group restaurants and hospitality services.
Almond Group CEO, Mr. Luu Meng said the company's working team has been approached many times by its customers asking to do the payment via QR code, Ali Pay and WeChat Pay. Such request has motivated Almond Group to choose Wing to be the partner considering the bank's many-years-experience in cashless payment in Cambodia.
"It is to the interest of Almond Group in continuously providing an innovative services ranging from up-to-standard dinning and hospitality services to a fast, convenience and secure payment experience," said Mr. Luu, adding that he is looking forward to a positive feedback from the customers, especially thousands of Chinese tourists visiting the kingdom, after the launch of this service.
Giving speech at the signing ceremony, Wing Chief Executive Officer, Mr. Jojo Malolos said Wing clearly understands the needs of our merchant partners in providing its customers a cashless payment experience in Cambodia; therefore, the introduction of WingPay, and services such as Ali Pay and WeChat Pay will be another stepping stone in filling up this demand and show how to the world how close Cambodia is to an ecosystem of cashless society.
"As part of the new innovative cash payment system, customers with Wing Money App, Alipay and WeChat App can use their smartphone to scan QR code displayed at Almond Group brand outlets to activate the payment process and things will be done in just seconds," said Mr. Malolos.
WingPay enumerates Wing's cashless payment services, from local online payment to QR payment, it is also one among many useful functions on Wing Money Mobile App, allowing customers to do so much more at just a touch of a finger on their smart or feature phone. In addition, the cutting edge Wing Money Mobile App allows local customers to pay their bills, top-up phone credit, transfer money, generate online payment code, and many others.
Mobile payment is becoming very popular among Chinese travelers. Over 90% of Chinese tourists would consider using mobile payments if more overseas merchants accepted it. In Southeast Asia, AliPay services are now accepted in Cambodia, Myanmar, Laos and the Philippines, which connects 520 million active users in China. Meanwhile, a recent report by CNBC shows WeChat has been used by over 800 million users via its pay function.
Media Contact:
Almond Group 
Ms PHAL Leakhena
Call: 015 880 258
Email: leakhena@almondgroup.biz
Wing (Cambodia) Limited Specialised Bank
Mr. Channpheaktra Hong
Calls: 077 995 295
Email: marketing@wingmoney.com