Wing and Amret Partner for Fund Transfer and Cash Deposit Service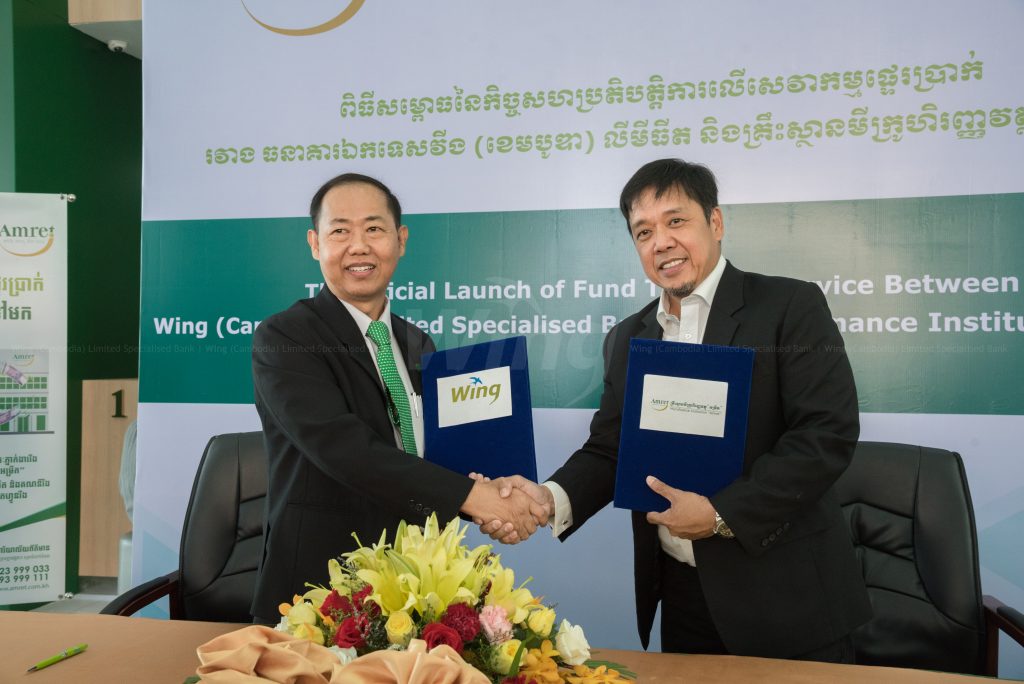 What's New
January 11, 2019
Phnom Penh, January 11, 2019: To provide a convenience of mobile financial services for both of their customers, Cambodia's leading mobile banking service provider, Wing (Cambodia) Limited Specialised Bank has partnered with Amret Microfinance Institution, to launch account to account fund transfer and direct cash deposit service.
Through this partnership, either Wing's or Amret's customers will be able to transfer the fund from Amret account into Wing account or vice versa – all can be done through the Wing Money App or USSD Code *989#. In addition, Amret's customers can deposit the fund into their Amret account by approaching any of over 6,000 Wing agents nationwide.
The launch of the two services will replace a regular practice of fund transfer done by thousands of Amret's customers – regularly visiting the microfinance branches for cash deposit. Instead, they can log into the Wing Money app, if they are using Smartphone, or USSD Code *989# if they are using feature phone, to perform fund transfer or visit any Wing agent to deposit the fund into their Amret account, meant for investing in fixed deposit accounts, where they may grow their financial portfolio for future use or pay their monthly loan repayment.
Attending the launch of services held at Amret's head office, Wing's Chief Executive Officer, Mr. Jojo Malolos said the partnership between Wing and Amret is grounded in our mutual commitment to financial inclusion enabling the unbaked and under-banked more access to financial services, and as a result, contribute to the growth of nation's economy.
"With this launch, we have reached another milestone in our quest to serve the diverse money transfer and deposit needs of our customers. Be it to process routine daily financial transactions, move funds for longer term investment decisions, or make immediate direct cash deposits, our account to account fund transfer and cash deposit services place more financial control in the hands of Wing and Amret customers and enable them with many possibilities" Mr. Malolos added.
Mr. Chea Phalarin, Chief Executive Officer of Amret, said that the ultimate goal of the launch of both financial services is to serve the financial needs of customers and to ensure they have the tools to facilitate immediate and long term financial decisions they need to make.
"Our very name, 'Amret', means prosperity.  We provide financial products and solutions with our customers' long term financial interests in mind.  The strength of our business is a direct result of the trust and confidence our customers have in us, as well as the trust and confidence we have in our partners, such as Wing," said Mr. Phalarin.
The partnership would allow Amret Microfinance to reach their targeted audience residing in the areas where Wing's agents is presented in addition an existing loan repayment service that both institutions have introduced two years ago. In addition to the convenience of fund transfer between account and account, Amret's customers can also enjoy a new world of mobile financial services provided in the Wing Money App including local and international money transfer, phone top-up, bill payment, online and QR payment, and so much more.
To celebrate this partnership, from January 01 to March 31, 2019, customers who process the fund transfer between Wing and Amret MFI account and vice versa will be waived from paying the service fee. The waiving fee is only available for the customers who process the transaction via the Wing Money App only.