Wing Employees and Agents Launch an Initiative to Support Community in Need amid Covid-19 Outbreak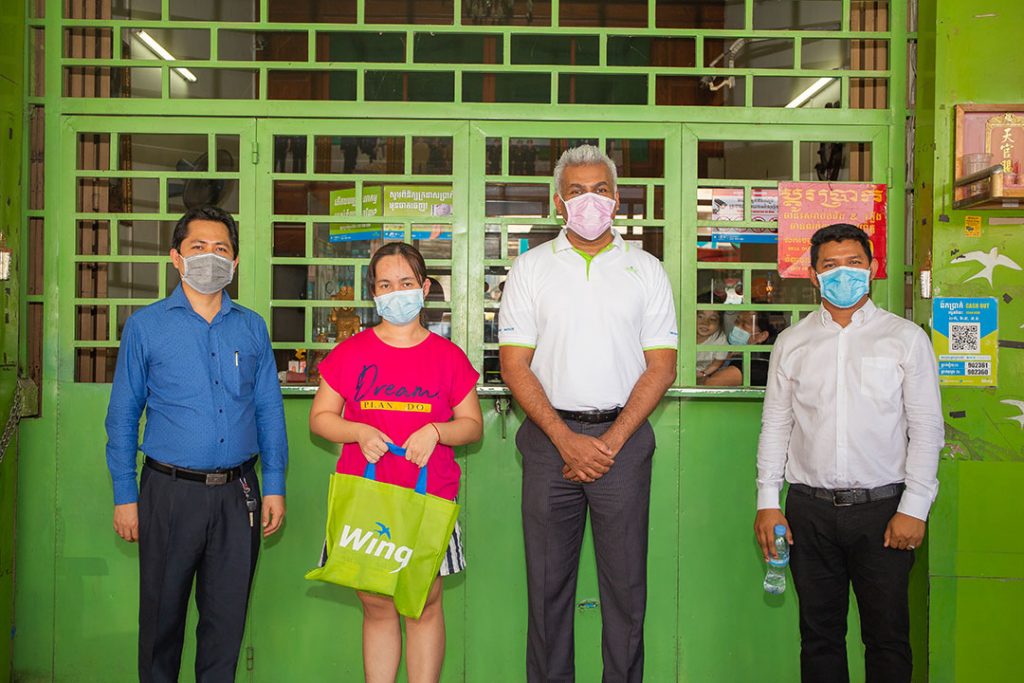 What's New
April 21, 2020
Cambodia! Together, We Will Come Out of These Difficult Times!
Phnom Penh, 20 April 2020—The COVID-19 pandemic has triggered crisis for people around the globe and right in Cambodia.
This crisis isn't just health-related; it's also felt in the massive economic slow-down caused by the disease and social distancing measures necessary to stop its spread. When people are unable to go out and earn their livelihood, it creates even more misery for their families, especially for daily wage earners who cannot work from home. Here in Cambodia, that includes thousands of tuk-tuk drivers and tour guides now struggling to make ends meet.
Mr. Koy Dara Vuth, a tuk-tuk driver in Siem Reap, used to earn up to $20USD each day. But now, with the Covid-19 pandemic, he only earns about $2 per day. On some days, Mr. Dara earns nothing.
"Prior to the pandemic, we could afford chicken or beef for our food, but now we can have only noodle or fish cans," he said.
Cambodia is home to more than 50,000 people who drive tuk-tuks to generate their main source of income. According to the national Tuk-Tuk Association, each driver can normally earn about $15 per day. However, during the pandemic when people have little need for ride hailing services, driver earnings are more in line with Mr. Dara at just $2.
Tuk-tuk drivers are not alone in seeing their earnings plummet. More than 3,000 tour guides share a similar fate as tourism and hospitality stagnates in the pandemic.
Since 2016, Ms. Ra Saven, 37, has been working as a tour guide in Siem Reap, showing off Cambodia's cultural heritage mainly to Japanese tourists. Now, she's stuck at home without her income to help the family with expenses.
"I am so stressed when my source of income is gone," she said. "I have to count on my husband's income to pay the bank's loan facility and feed my 11-month-old daughter."
To help affected by the pandemic of Covid-19 outbreak, Wing Cash Xpress agents, employees of Wing (Cambodia) Limited Specialised Bank and Royal Group have launched a fundraising initiative to support these families and help them keep food on the table. Through this charitable program, they are trying to organize funds to fulfill the basic needs of household of each participating family.
"As responsible corporate citizens, we are being mindful not just of our own safety and health, but also that of a needy neighbor and a suffering countryman," said Mr. Manu Rajan, CEO of Wing. "It is crucial that Wing joins together to do our part to support and help our community so we can all come out of this tough time together."
"Your kind support not only helps those in need, but also inspires others to do more to help protect our community," said Mr. Manu about this initiative by Wing's employees and Agents.
Other willing citizens can also support community members in need by making a financial donation to the Wing Relief Account. If using the Wing Money Mobile App, the number is 03210000 for donating Riel and 03310000 for USD. Donors can also contribute through any of the 7,500 Wing Cash Xpress Agents across Cambodia.