Wing Gift for its Valued Customers, Free 2018 Mekong Express Limousine Bus Tickets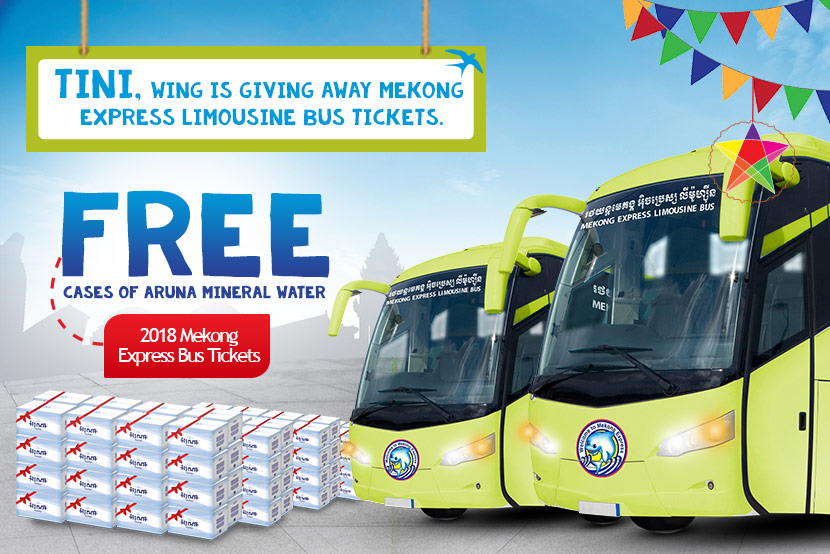 What's New
March 27, 2018
Phnom Penh (March 26th ) – Cambodia's leading mobile banking service provider, Wing Cambodia Limited Specialised Bank on its second year once again give away free​2018 bus tickets to the province.
"Wing has always been there when it comes to sending money to your loved ones, and during the Khmer New Year we wanted to send you your loved ones instead. So for the second year we intend to give away 2018 bus tickets on adventure trip or to home town and a matching cases of mineral water from ARUNA. We believe that nothing beats the presence of our loved ones in our side during Khmer New Year." said Paomealea Suos, Head of Customer Life Cycle at Wing.
The promotion is available from today until 13th of April, 2018 for all Wing account holders. All they need to do is to perform 2 different transactions, just transact US$3.00 ticket size per transaction to be eligible to get the free bus ticket. One Wing Account is eligible for 1 bus ticket. The redemption is from 1st April to 13th April from 8am to 5pm at Mekong Express station, located at Jroy Chong Va. This is a first come first serve basis.
If you have questions, please call Mekong Express Limousine Bus Tickets at (+855) 12 78 78 39 or visit our promo page. Terms and Conditions apply.