Wing and Cambodia Microfinance Association Sign MoU allowing New Payment Solution to CMA's members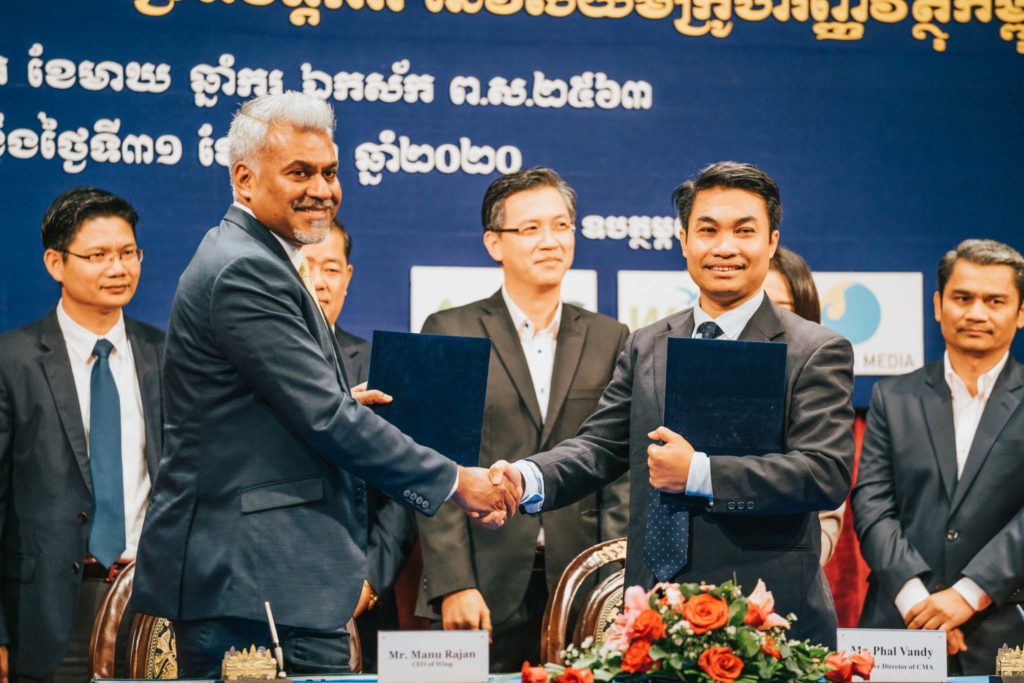 What's New
February 4, 2020
Phnom Penh, Jan 31, 2020–Wing, Cambodia's leading mobile banking service provider, and Cambodia Microfinance Association ("CMA"), a professional association of Microfinance institutions, signed a Memorandum of Understanding ("MoU") on Jan 31, 2020 outlining a new partnership agreement.
Under this MoU, the members of CMA will be able to pay their membership fee via over 7,300 Wing Cash Xpress agents and through Wing Money mobile app, giving them greater choice in making their payment.
"With Wing, paying CMA membership fee is either at the convenience of your fingertips through our mobile app or our widespread network of Wing Cash Xpress agents," said Manu Rajan, Chief Executive Officer of Wing. "We are delighted to partner with CMA, bringing our cutting-edge technologies and know-how to grow Cambodia's Microfinance sector."
Being the forerunner in endorsing financial inclusion since its launch over the past 11 years, Wing has established a robust mobile banking ecosystem that caters to the needs of Cambodia's population across provinces by offering an array of services like money transfer, bill payment, phone top ups, online and offline cash payments.
"Using Wing's robust and secure network as payment option is an important step for us as we have been exploring ways of providing convenience to our members using technology," said Mr. Phal Vandy, Executive Director of Cambodia Microfinance Association.
Established in 2004, CMA aims to ensure the prosperity and sustainability of the microfinance sector in Cambodia, creating local and international networks as well as promoting transparent and customer protection within the sector in Cambodia.
In Cambodia, Microfinance plays an integral role in empowering women who are the head of the families with very sound knowledge of financial management. According to CMA, approximately 80% of Microfinance Institution clients are living the rural areas and 80% of them are women. 101 of Microfinance Institutions are members of CMA as of now.