Wing and Morokot join hands to help MFIs and Banks to simplify the loan collection process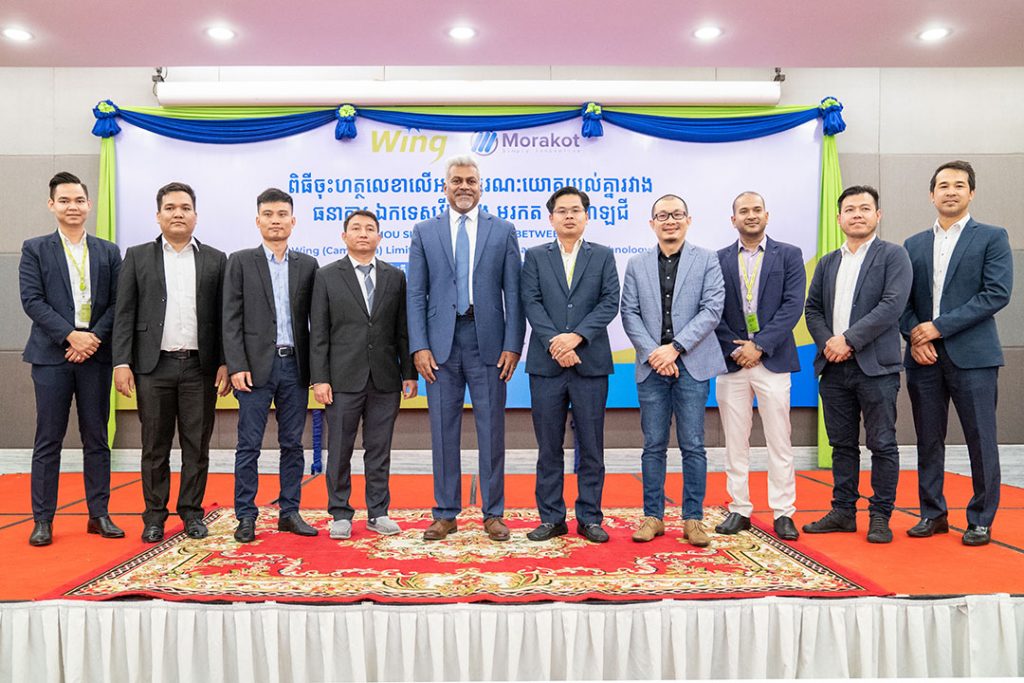 What's New
July 17, 2020
MFIs and Banks across Cambodia can use Wing's Financial Ecosystem through Morakot Technology to collect their loan payments reducing their operation cost.
Phnom Penh, July 17, 2020— Wing (Cambodia) Limited Specialised Bank partners with Morakot technology to mark a historic move providing further assistance to microfinance institutions (MFIs) and Banks in the loan collection process helping them bring down their operation cost.
Through this partnership, the MFIs and Banks can now collect their loan payments via Wing's financial ecosystem using the core banking system of Morakot Technology, ensuring convenience and effective operational cost management. The customers of the MFIs and Banks elect to make their loan repayments through either nearby Wing Cash Xpress outlets or the cutting edge technology of Wing Money App working 24 hours a day and 7 days a week.
"I believe that the partnership with Wing will help our customers (MFIs and Banks) in providing better services to their clients. Without the need to visit MFIs or Banks' branch office, people can now pay back their loans with Wing agents," Mr. Sophorth Khuon, Morakot's Chief Executive Officer. "There are currently almost 8000 agents across Cambodia. The MFIs and Banks can focus on acquiring new customers and disburse new loans rather than the collections which ultimately improve productivity."
Morakot technology is a leading core-banking system provider in Cambodia, founded in 2015, and is currently serving 45 MFIs and Banks in Cambodia and Myanmar. Wing and Morokot Technology share a common objective in using digital financial technology for the transformation of financial service industry in Cambodia, especially in financial inclusion ranging from core-banking system to mobile banking.
"At Wing, it's our commitment to ensure that our customers enjoy a wealth of financial solution in convenient, secure and fast manner," said Manu Rajan, CEO of Wing. "The integration of Wing's financial system and Morakot Technology is another avenue to leverage our financial technology for the benefit of those living in the rural provinces and the MFI as well as banks. Our people do not to travel very long distance to repay their loan while the financial institution can bring down their operational cost."
Less than 5% of the MFIs in Cambodia could afford standard microfinance software and most of the software was designed for banks, and not for microfinance institutions. So, there were a lot of customizations that needed to be done, and those associated with huge costs for MFIs. The MFIs that could not afford this software, ended up using Excel which is commonly known as manual tracking. Some of them even recorded their clients on paper.
Considering the firsthand challenges that MFIs and Banks face when it comes to loan distribution and management, Morakot Technology which was established in 2015, offers loan tracking and accounting processes in one central hub to the MFIs and Banks. The platform also integrates with credit bureau databases, which facilitates faster loan approval and processing. All updates are integrated into the web experience, and the platform was designed to allow for quick fixes and iterations, giving the clients with worry free about software installation
As a leading mobile banking service provider in Cambodia, Wing has provided convenient access to financial service to every Cambodian across the country through the latest technology of Wing Money App, as well as the omni-present of a network of close to 8,000 Wing Cash Xpress across districts and provinces in Cambodia. Over the past 12 years, Wing has won Cambodia's trust with a determined focus on ensuring safe transactions and an uncompromised vigilance for information security. Today, the brand name Wing is synonymous for safe, secure and affordable payment services trusted by close to 10 million users every year.