Wing to Provide its Range of Payment and Financial Services through Circle K Convenience Stores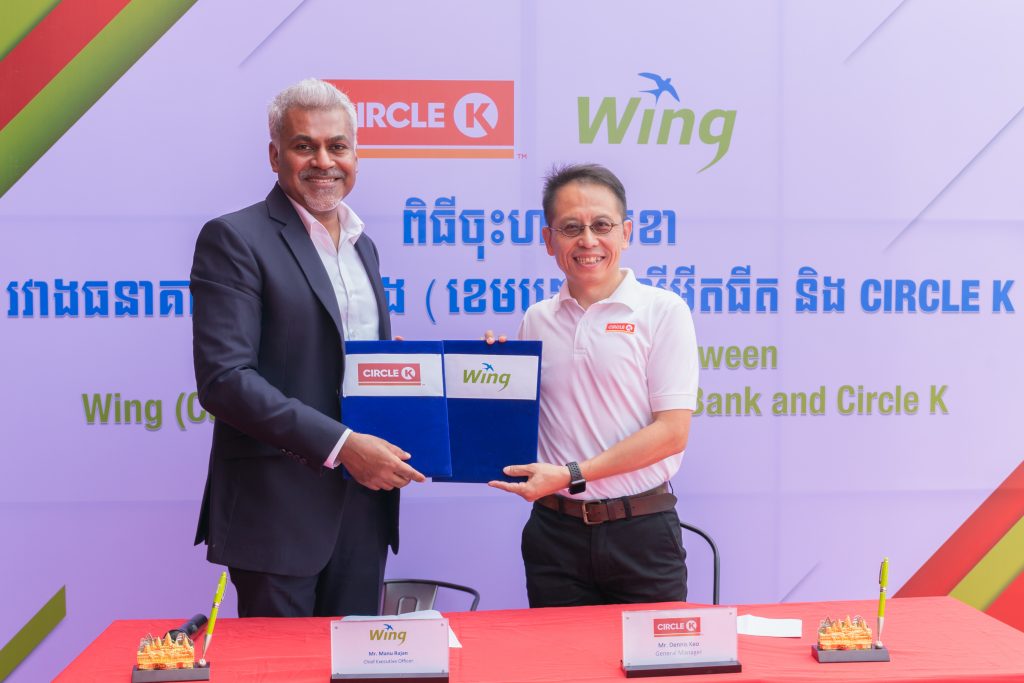 What's New
August 9, 2019
Phnom Penh, August 9, 2019: Wing (Cambodia) Limited Specialised Bank (Wing), Cambodia's leading mobile banking provider, has announced that it has signed a Memorandum of Agreement with TH CVS Co., Ltd, who serves brand Circle K, a leading and widely recognized global convenience store brand, to provide Wing financial services through the rapidly growing network of Circle K convenience stores across Phnom Penh and Cambodia.
Through this partnership with Circle K, Wing continues to demonstrate its commitment to financial inclusion and to ensuring access to financial services for all Cambodians.  Two strong and trusted brands joining forces to complement their respective strengths and expertise, to provide convenient one stop shopping and financial services for their customers, and provide opportunities for entrepreneurs to grow their own businesses.
Recognizing the synergy between the two recognized brands, Circle K will serve as a Wing agent, providing all of Wing's extensive range of financial services at all of its convenience store outlets, twenty-four hours per day, each and every day.  Starting in Phnom Penh, Circle K will include Wing services in all of its existing convenience stores, as well as all new convenience stores in Phnom Penh, and will soon expand to other large cities in Cambodia.
Wing and Circle K will leverage the rapid adoption of digital payment methods in Cambodia to make shopping at Circle K easy.  Customers can handle all of their shopping and daily financial transactions through the convenience and security of their mobile phone and Wing Wallet, and payment convenience of the QR payment system, WingPay, while at the same time experience a world-class shopping experience.  Together as partners, Wing and Circle K will reach more customers, and serve them better.
As the single largest platform in Cambodia for the unbanked to carry out their business transactions, Wing's mobile payment ecosystem will open more possibilities and opportunities for entrepreneurs and SMEs to sell to Circle K outlets.  With the ease and convenience of the Wing Wallet, Circle K will be able to pay their supplier invoices, and suppliers will reliably receive immediate and secure payment for their services.
"Today is a very proud day for Wing.  We have always been successful in providing the best mobile payment services because we partner with strong, trusted, and reliable brands, such as Circle K.", said Manu Rajan, Chief Executive Officer of Wing.  Mr. Rajan added, "At Wing, our vision is to provide relevant and affordable mobile financial services to every Cambodian.  Our business is focused on bringing financial inclusion to the underbanked and unbanked, and to provide a way for them to more fully interact and participate in the economy.  Our partnership allows both Wing and Circle K a solid foundation from which to serve our customers and to grow our respective businesses, while at the same time remain true to our vision."
Mr. Dennis Keo, General Manager of Circle K, said "In the markets where we operate, it is crucial to our business that we work with the right partner, one that is trusted and respected.  Globally, the Circle K brand is one of the strongest in our business segment, and we go to greats lengths to ensure our partnerships not only make sense, but also help us uphold our values.  As such, we are pleased to grow our presence here in Cambodia with a partner like Wing.  Our companies share a common goal to serve customers with the best products and offerings, and to play our part to extend economic opportunities to those who might otherwise not have.  [MR/MS LAST NIGHT] went on to say, "We have high hopes for Cambodia, and together with Wing, we look forward to providing convenient access to our products, and to providing another way to access financial services."
For further information, please contact:
Wing (Cambodia) Limited Specialised Bank
Email: marketing@wingmoney.com
About Wing
Wing (Cambodia) Limited Specialised Bank is Cambodia's leading mobile banking service provider. Launched in 2009, Wing is committed to providing financial inclusion to the unbanked and under-banked allowing every Cambodian access to services including local money transfers, bill payments and phone top-ups, online shopping and QR payment, as well as instant international money transfer from more than 200 countries.
Wing remains at the forefront of the mobile money and electronic payment services market in Cambodia with 100% district coverage via a nationwide network of over 6,000 Wing Cash Xpress outlets. It has partnerships with more than 30,000 merchants and global industry leaders including Mastercard and WorldRemit. In addition, small and medium enterprises, as well as larger companies, are able to use Wing's payroll and disbursement services, helping to further develop its payment ecosystem.
About Circle K
Circle K Cambodia is Canadian owned American multinational chain of convenience store operated by TH CVS Co., Ltd. Founded in 1951, Circle K is now presented in United States, Canada, Mexico, Hong Kong, China, Macau, Indonesia, Vietnam, UAE, Egypt, and many more which brings the worldwide total networks to more than 16,000 Circle K stores globally. In Cambodia, TH CVS will be presented in some other key city in the near future and plans to open 300 Circle K outlet nationwide, cashing in on the country's improving retail outlook, by 2026.
As one-stop convenience store, Circle K is where customers can grab a quick bite to eat, buy drinks, withdraw money from ATM, pay a bill, top up your phone card, do money transfer, send your package to anywhere in the country in a very close distance to you anytime of the day 24/7 all in air conditioned comfort and free Wi-Fi. All is about Convenience.