Wing Bank and SME Bank of Cambodia Plc collaborate to implement on Small and Medium Enterprise Co-Financing Scheme Phase II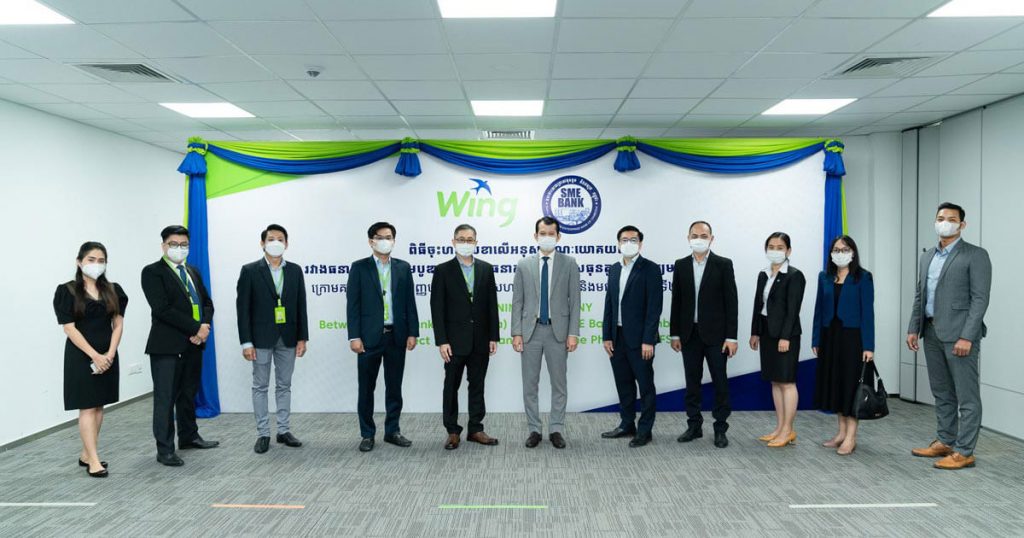 What's New
October 21, 2021
In support of the community and to assist in the recovery of the economy from the Covid-19 pandemic, Wing Bank (Cambodia) Plc and Small and Medium Enterprise Bank of Cambodia Plc have signed a memorandum of understanding to provide affordable loans to small and medium enterprises in Cambodia through the SME Co-Financing Scheme Phase II (SCFS II).

Senior Management of Wing bank and SME Bank of Cambodia posts for the photo at the MoU singing venue.
The SME Co-Financing Scheme Phase I was launched in 2020 by the Royal Government of Cambodia and is aimed at providing affordable financing with favorable conditions to promote the development of SMEs in priority sectors to minimize imports, fulfill domestic demands and to serve as an input to the production of larger enterprises.

Wing Bank will provide loans to the owners of SMEs under the SME Co-Financing Scheme Phase II with SME Bank.
"This partnership will contribute to the recovery of Cambodia's economy, which has been greatly affected by the Covid19 pandemic, by supporting SMEs with convenient access to financial services," said Mr. Han Peng Kwang, Wing Bank's Chief Executive Officer. "This will help to relieve the burden of business owners who have been hit hard by the pandemic."
SMEs, like many other businesses in Cambodia and worldwide, have been heavily affected by the Covid-19 pandemic. Through the partnership of Wing Bank and SME Bank, the owners of the SMEs will be able to access affordable loans through Wing Bank and nearby Wing Cash Xpress agents across Cambodia, and the Wing Money App, saving time and travel costs.
"The partnership formed today will help to extend our support to SMEs in a greater way through the ever-improving digital financial ecosystem of Wing Bank," Mr. Lim Aun, CEO of SME Bank of Cambodia. "The SMEs in a tough position will now be able to access much needed financial support easier than ever before."
Launched in 2020, the SME bank has a mission to provide financing and commercial banking services in an effective and sustainable manner to support local small and medium enterprises with the objective to increase economic diversification and expand export volumes.
Wing Bank, is widely known for its multi-function Wing Money App, and the omnipresence of its Wing Cash Xpress outlets, with nearly 10,000 across Cambodia providing financial services every day. As of 2020, Wing Bank has been working with more 2,400 SMEs for collection and disbursement services.