15 Glorious Years of Serving Cambodia
August 18, 2023
Wing has reached a momentous milestone as it commemorated 15 years of revolutionizing the financial landscape and empowering millions of Cambodians with accessible and inclusive economic solutions and became one of the most trusted and widely used brands in the country's financial services industry. 
The past 15 years have witnessed Wing's remarkable journey from a visionary concept to becoming a vital catalyst for financial inclusion in the country – dedicated to bridging the financial gap among the unbanked population by providing them with secure, reliable, and convenient services accessible to all.
Wing's humble journey to serving over 80% of Cambodia's population
Manu Rajan, the CEO of Wing Division, said, "Wing has been at the forefront of empowering Cambodians with accessible and transformative financial services. As we celebrate 15 years, we reaffirm our dedication and position to creating an inclusive financial ecosystem that empowers individuals and businesses alike."
Since its inception, Wing has been committed to growth and customer-centricity, driving it to reach new heights. It has expanded its network from just 600 agents to over 11,000 agents today, diligently serving over 14 million users, translating to more than 80% of Cambodia's population.
As evidence of its significant impact, Wing has served as a trusted partner to the Royal Government of Cambodia, successfully facilitating various initiatives. Notably, as reported by local media, it has played a crucial role in disbursing funds, with an estimated $1.1 billion under the Covid-19 Cash Transfer Program, providing essential support to over 700,000 vulnerable households across the Kingdom during these challenging times.
"We are humbled by the trust and confidence millions of Cambodians have given us over the past 15 years. Wing's success is a reaffirmation of the fact that innovation that results in convenient and relevant solutions for the customers will always be accepted and trusted. Our employees, agents, customers, and partners, who embraced our vision of financial empowerment have played a crucial role in our success" Manu emphasized.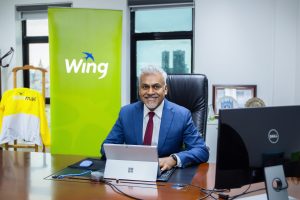 Transforms into Commercial Bank, Creating Largest Digital Banking Ecosystems
Another significant milestone in Wing's evolution was its transformation into a fully-fledged commercial bank in late 2020. This transformation allowed Wing Bank to broaden its service offerings and establish 16 branches in key locations, including Phnom Penh and various provincial cities.
With this expansion, Wing Bank has provided customers with ample parking spaces and modern ATM facilities available 24/7. Additionally, it offers comprehensive banking services, ensuring convenient and accessible digital banking through its Wing Bank App.
The exceptional growth of Wing Bank is further highlighted by its contributions to the business community. Over 150,000 merchants, 3,000 SMEs, 600 corporate businesses, and 10 government institutions have found a thriving platform within the bank's ecosystem. Collaborations with top financial partners such as Mastercard, Visa, WeChat, Western Union, MoneyGram, Ria, Prudential, and UnionPay International have created an extensive digital banking ecosystem.
"Wing's transformation into a commercial bank marks a significant milestone in our quest to provide comprehensive financial solutions to every Cambodian. We are excited to leverage this new chapter to continue delivering innovative solutions that shape the future of banking in Cambodia. Our vision to provide every Cambodian with convenient access to relevant digital solutions for the improvement of​ their​ daily lives" Manu added.
Wing has been at the forefront of driving an open economy in Cambodia. Wing Bank's commitment to innovation extends to its comprehensive portfolio of offerings, which includes loans, deposits, savings, money transfers, utility and insurance payments, supply chain transactions, payroll services, and even mobile top-ups. Innovative platforms such as "Wingpay," "Wingmall,", "Wingexpress", "Wingmarket" underscore Wing Bank's dedication to fostering both consumer and business transactions. Furthermore, Wing Bank's contribution to Cambodia's agricultural sector through the WingAgri platform solidifies its role as a dynamic partner to the nation's economic ecosystem.