Camlife and Wing Bank to bring diverse insurance solutions to the Kingdom
May 25, 2023
The two leading Cambodian companies are joining forces to enhance financial inclusion by increasing accessibility to insurance services to the customers.
Cambodia Life Micro Insurance "Camlife" Plc has entered into a memorandum of understanding (MoU) with Wing Bank (Cambodia) Plc to raise awareness amongst the Cambodians as to the benefits of buying insurance products for financial security, health and wellness.
Johnson Chai See Hawk, the CEO of Camlife, said: "We are thrilled to have entered this strategic partnership with Wing Bank – one of the fastest growing commercial banks in Cambodia – as we leverage on each other's strengths to provide affordable insurance products to serve the needs of lower middle-income bank customers across the country."
"In line with Camlife's vision of providing protection to all Cambodians, the 'Simple One + Daily Hospital Cash (DHC)', which is simple and affordable, has been specially designed for the real needs of lower-middle income customers."
"Camlife has always placed customers as the highest priority and is committed to ensuring they have peace of mind that Camlife is always there for them as a safety net and bridge them to safety."
Driven by a shared commitment to promoting financial wellbeing and safety, Wing Bank and Camlife are poised to unleash the true potential of insurance solutions for Cambodians across all levels of society.
Han Peng Kwang, CEO of Wing Bank, said: "We believe that everyone, regardless of their background or income level, deserves access to reliable financial protection.
"Through this collaboration with Camlife, we reaffirm our commitment to empowering our customers and providing them with comprehensive financial solutions that will safeguard their wellbeing and their loved ones."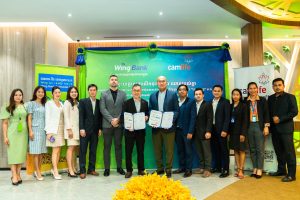 Wing Bank is a leading digital bank revolutionizing the way Cambodians access financial services. With the mission of being the "Bank for Every Cambodian", Wing Bank is committed to enhancing the daily lives of its customers through accessible and affordable digital solutions.
Since its inception in 2008, Wing Bank has become one of the fastest growing commercial banks and amongst the most trusted financial institutions in Cambodia.
Meanwhile, the micro insurance industry in Cambodia has experienced healthy growth post-pandemic. Camlife – the first Cambodian life insurance company and the winner of the "Best Micro Insurance Cambodia 2021" award from the UK-based CFI – has played a pivotal role in this growth, capturing an increased market share of 18.5% in quarter 1 of 2023 in this segment.
Bancassurance is defined as an arrangement between a bank and an insurance company to allow the insurers to offer their insurance products to the bank's customers. Recognizing the potential of this model, the National Bank of Cambodia (NBC) and the Insurance Regulator of Cambodia (IRC) have worked hand in hand to strengthen and streamline the bancassurance framework.
Bancassurance has gained importance in driving the insurance sector of Cambodia, accounting for 40% of the total sales in 2022. This trend highlights the increasing significance of bancassurance in the growth of Cambodia's insurance industry. Looking ahead, the Kingdom aims to achieve an insurance penetration rate of 5.5% and an insurance density of $135 per capita by 2030.