MAFF, Wing Bank, and Wingagri Partner to Boost Cambodia's Agri Enterprises
November 14, 2023
Famers and Agri-SMEs nationwide, through Cambodia's Ministry of Agriculture, Forestry, and Fisheries, can obtain loans from Wing Bank, supporting their business growth while leveraging the Wingagri Platform.
Ministry of Agriculture, Forestry and Fisheries (MAFF) and Wing Bank (Cambodia) Plc have joined forces by signing a Memorandum of Understanding (MoU), aiming to enhance agricultural development in Cambodia, offering accessible loans with low interest rate to support to the Royal Government Agriculture   Priority policies through innovative Wingagri supply chain platform built specifically to support the sector.
The MoU was signed by Excellency Dith Tina, Minister of Agriculture, Forestry and Fisheries, and Neak Okhna Kith Meng, Chairman of Wing Bank, at the MAFF's office in Phnom Penh Capital.
Under the MoU, Wing Bank will offer affordable loans to agricultural businesses facilitated by MAFF, aiming to solve the persistent financing issues in agricultural production chains and enhance the financial capabilities of these businesses, enabling them to maximize their agricultural production and better cater to growing demand.
"This partnership with Wing Bank is a significant milestone for the Ministry of Agriculture, Forestry and Fisheries as it allows us to strengthen our support for the agricultural sector providing much-needed financial solutions and expanding market access for farmers and agricultural businesses across Cambodia," said H.E. Dith Tina, Minister of Agriculture, Forestry and Fisheries. "We are calling others Financial institutions to follow Wing bank foot step in supporting our famers to grow", He added.
In addition, through this partnership, Agri-SMEs will be able to utilize the topnotch Wingagri digital platform. Serving as a centralized digital hub for the agricultural sector, this platform offers seamless management of the agricultural supply chain. It provides advanced financing solutions to empower agricultural cooperatives, buyers, input suppliers, and farmers, ensuring a streamlined and efficient process.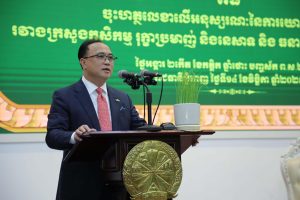 "We strongly believe that financial inclusion is a crucial component for driving economic growth and prosperity at the moment. To best meet the needs of our agri-SMEs, we have tailored our financial services accordingly," said Neak Oknha Kith Meng. "I am very thankful to MAFF for placing their trust in our financial solutions."
According to MAFF, Cambodia recorded a significant milestone in its agricultural sector last year, with formal exports of agricultural products reaching 8.6 million tones across 74 markets. The total export value amounted to nearly $5 billion, reflecting a notable growth of 7.8 percent compared to the 7.9 million tonnes recorded in 2021. This remarkable achievement highlights the significant contribution of agriculture, which accounted for 22.2 percent of Cambodia's gross domestic product (GDP) in 2022.
Agri-SMEs throughout Cambodia can now reach out to MAFF and complete the application process to secure a financial loan from Wing Bank. This loan plays a crucial role in supporting and expanding their businesses, offering the necessary financial backing to drive growth and achieve success.