Neak Oknha Kith Meng Donated 20 Million Riels to the Angkor Hospital for Children
June 14, 2023
Neak Oknha Kith Meng and his family donated 20 million Riels to Angkor Hospital for Children through Wing Bank.
Neak Oknha Kith Meng, together with his family, provided a 20 million Riel donation as generous support to the noble cause of Angkor Hospital for Children as it celebrates "The 10th Bon Phka Prak Mohasamky" to raise funds for free medical care for child patients.
This is the fourth year that Neak Oknha and his family through Wing Bank, together with his company, have extended their support to this generous hospital. Additionally, Wing Bank graciously has waived fees for the public who contributed financially to the hospital's sustainable operations.
Hor Bunthe, Deputy CEO of Wing Bank, said, "Children are the future pillars of a nation. To become a great resource for a nation, we need to ensure their good health and well-being. Therefore, Bon Phkar is a good initiative that allows the public to make contributions to create a greater impact, especially in improving the health of children and our society as a whole."
Every year, Angkor Hospital for Children proudly offers free medical care to more than 97,978 children nationwide. In addition, over 300 children visit the hospital daily for crucial medical consultations and treatment. Thereby, the hospital significantly impacts the health and well-being of many children's lives.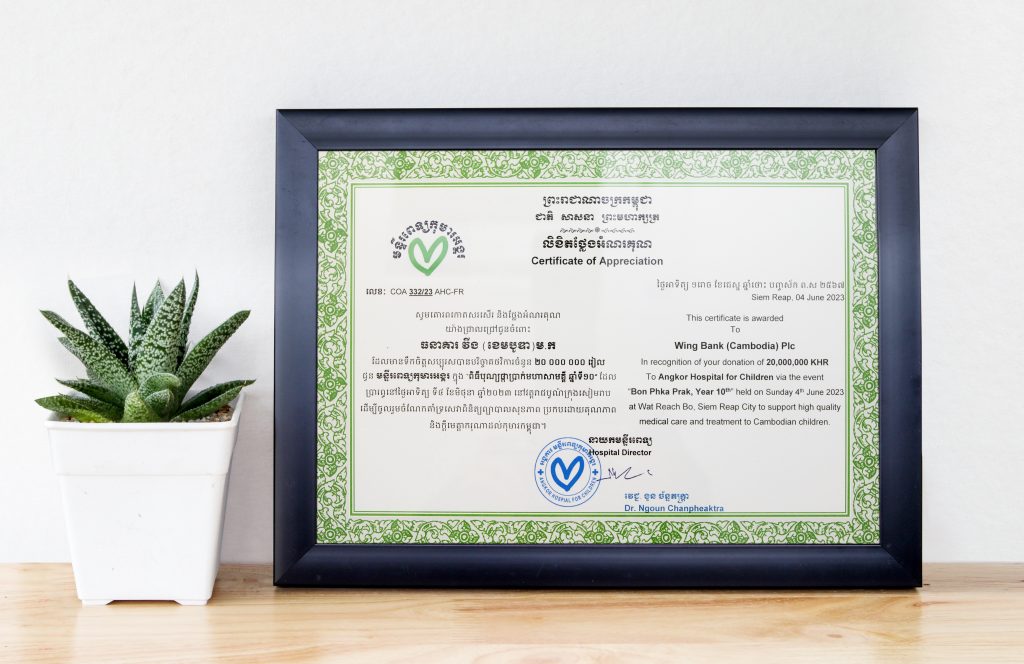 Dr Ngoun Chanpheaktra, Director of Angkor Hospital for Children, said, "We deeply appreciate the constant support from Neak Oknha and his family, as well as Wing Bank, for their generous contributions to Angkor Hospital for Children. We would also like to extend our appreciation to donors who join forces with us to save Cambodian children's lives. We believe every child deserves to be healthy and receive quality and compassionate healthcare."
The public donation funds are utilized for efficient operation, including purchasing medical supplies, equipment, and staff training and improving the hospital's infrastructure and facilities.
The hospital needs approximately $6 million to operate and sustain its essential medical services. To save children's lives in Cambodia, the public can make contributions through various channels provided by Wing Bank, including the topnotch Wing Bank App, or by visiting any of the 11,000 nearby Wing locations with the biller code 9122 (for Khmer Riel) and 8122 (for US Dollars). For those using other banks' accounts, donations can be made through Wing Bank KHQR. Wing Bank has also collaborated with Global Money Express (GME) to allow donors in South Korea to contribute to Angkor Hospital for Children via GME, without any fees, using account number 04365214.