Prudential Cambodia and Wing (Cambodia) Sign MOU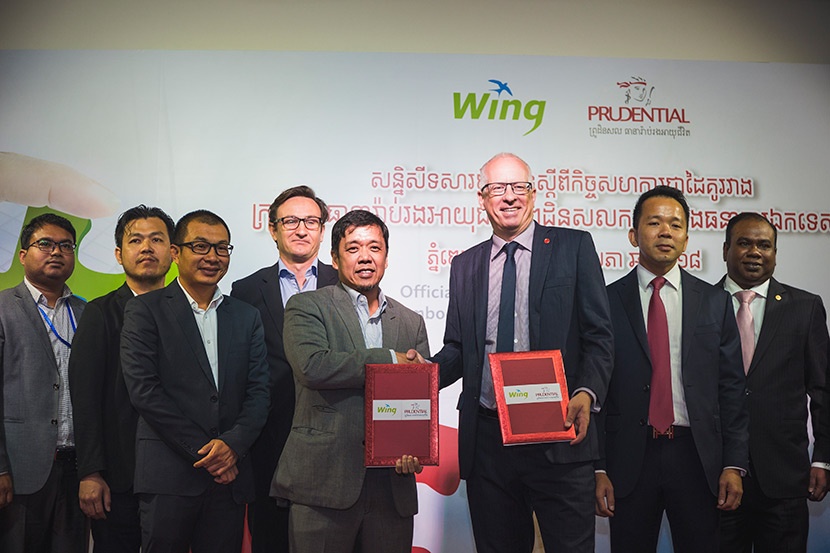 What's New
May 30, 2018
PRUDENTIAL CAMBODIA AND WING (CAMBODIA) LIMITED SPECIALISED BANK SIGN MOU ALLOWING EASY PREMIUM PAYMENTS FOR PRUDENTIAL CUSTOMERS
Phnom Penh, 30th May 2018 – Cambodia's leading life insurance company, Prudential Cambodia, and Cambodia's leading mobile banking service provider, Wing, signed a Memorandum of Understanding (MoU) on Wednesday outlining a new partnership agreement.
Under the agreement, Prudential Cambodia customers will be able to pay their life insurance premiums via Wing's 5,000 Cash Xpress agent network as well as through its Wing Money mobile app, and *989# USSD function giving customers greater choice in the way they pay their premiums.
"Premium payments are essential for our customers to maintain the protection and the peace of mind of a life insurance policy, so we want to make sure they can do this as easily as possible wherever they are across the Kingdom," said Prudential Cambodia CEO David Nutman at the signing ceremony.
"Using Wing's robust and secure network to make premium payments was an obvious choice for us as we are always looking for ways such as this to use technology to improve our customer service," he added.
Through its bancassurance partner, ACLEDA, and its own offices in several key cities across Cambodia, Prudential already has a nationwide network. Partnering with Wing allows the company to reach customers in smaller towns and villages.
"In addition to providing a convenient way to pay the premium, this partnership will open more opportunities for both, banked and underbanked, people to access to Prudential insurance regardless of where they reside. This would mean that people in small town and villages across Cambodia can now access to various benefits that insurance company has to offer, something that they are left out in the past," said Wing Chief Executive Officer, Mr. Jojo Malolos, at the signing ceremony.
"With Wing, premium payment is either at your fingertips through our mobile payment solution or within your nearby Wing Cash Xpress agents. We, at Wing, aspire to create a viable and profitable ecosystem of agents, consumer, corporate, merchants, billers, MFI's, and government that penetrates both the city and remote community throughout the Kingdom," Mr. Malolos added.
The premium payment service through Wing, both account and agents, has already been activated. Prudential customers can now pay their premiums through biller codes, both on Mobile and with WCX agents nationwide.
ABOUT PRUDENTIAL
Prudential (Cambodia) Life Assurance PLC (Prudential Cambodia) began operations in January 2013. By providing tailored life insurance solutions to individuals and families and conducting insurance seminars for the public, Prudential Cambodia helps Cambodians protect and secure their financial futures.
Prudential Cambodia is a wholly owned subsidiary of UK-based Prudential plc*. In Asia, Prudential is a leading life insurer that spans 13 markets in Asia, covering Cambodia, China, Hong Kong, India, Indonesia, Korea, Laos, Malaysia, the Philippines, Singapore, Taiwan, Thailand and Vietnam. Prudential has a successful multi-channel distribution platform providing a comprehensive range of savings, investment and protection products to meet the needs of its customers.
* Prudential PLC is an international financial services group serving more than 24 million insurance customers worldwide and has USD 825 billion in assets under management (as at 30th June 2017). Prudential plc is not affiliated in any manner with Prudential Financial, Inc., a company whose principal place of business is in the United States of America.
ABOUT WING
Wing (Cambodia) Limited Specialised Bank is Cambodia's leading mobile banking services provider and one of the few specialised banks in the world. Established in 2009, Wing has transformed the way Cambodians send and receive money, using a mobile phone for anytime, anywhere convenience.
Wing is committed to providing financial inclusion via mobile banking services to the unbanked and under-banked, with innovative products and services allowing every Cambodian access to financial services such as local money transfer, instant international money transactions, phone top up and bill payment.
Wing's success was recognized when it was named 'Best Mobile Payment Solutions Cambodia' in the prestigious Global Banking & Finance Awards 2017. Wing remains at the forefront of the mobile money and electronic payment services market in Cambodia with 100% district coverage via our nationwide network of 5,000 Wing Cash Xpress outlets. It has partnerships with more than 6,000 merchants and global industry leaders including Mastercard and WorldRemit.
Wing also provides funds and payment solutions to the corporate sector via our enterprise services. With Wing, small and medium enterprises (SMEs) and companies can use Wing's payroll and disbursement services for their employees, helping growth and the spread of payment ecosystems.