Wing Bank and Prudential Signed MoU for Business Collaboration Exploration to Drive Financial Inclusion and Digital Transformation
May 12, 2023
Wing Bank, one of the fastest-growing commercial bank, and Prudential Cambodia, one of the leading life insurance providers in the country, have announced a Memorandum of Understanding (MoU) to explore opportunities for business collaboration. The anticipated collaboration between Prudential Cambodia and Wing Bank is expected to bring significant value to the financial sector in Cambodia and facilitate a brighter and more financially resilient future for the country, and to help people get the most out of life.
The MoU was singed on May 12, 2023, at Hotel Cambodiana presided over by Neak Oknha Kith Meng, Chairman of Wing Bank and CEO of the Royal Group of Companies, and Mr. Paul Lynch, Group Director of Government Relations of Prudential Plc. The MoU was signed by Mr. Han Peng Kwang, CEO of Wing Bank and Mr. Sanjay Chakrabarty, CEO of Prudential Cambodia.
Contributing to Cambodia's financial inclusion targets
The Insurance Regulator of Cambodia (IRC) has set an objective to increase the insurance penetration rate to 5.5% and raise industry density to $135 by 2030. The alliance between Prudential Cambodia and Wing Bank will therefore play a crucial role in contributing to these national goals.
Mr. Paul Lynch, Group Director of Government Relations at Prudential, emphasized the importance of the collaboration in aligning with the National Bank of Cambodia's vision for financial inclusion. "Our steadfast commitment to financial protection for all Cambodians will be further bolstered by this new business collaboration exploration. We aim to leverage Wing Bank's robust presence across the Kingdom to increase access to insurance no matter where Cambodians live and work," he said.
The partnership comes in the wake of Prudential Cambodia's strategic alliance with Royal Group, a prominent business group in Cambodia. Both partnerships underscore Prudential's commitment to financial inclusion and making insurance more accessible and affordable to Cambodian families and communities.
Integration between digital products & platforms
This strategic collaboration aims to leverage Wing Bank's extensive networks of over 11,000 agents across the Kingdom to improve accessibility and increase financial protection for Cambodians.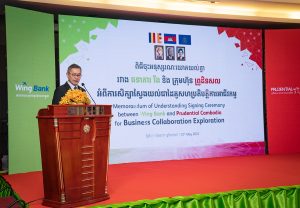 "We strongly believe that this collaboration is going to be highly beneficial to our customers, as they will be able to access to different types of life insurance products and financial investment products in all Wing Bank branches on top of our existing banking products and services," said Mr. Han Peng Kwang, CEO of Wing Bank
"Wing Bank's customers will benefit from this bancassurance partnership by getting convenient access to Prudential insurance products, customized plans, financial planning advice and an easy buying process." He added.
CEO of Prudential Cambodia, Mr. Sanjay Chakrabarty, said, "Our focus is on broadening product offerings based on life stages and affordability. This collaboration with Wing Bank allows us to explore the integration of Wing Bank's products with our customer base, offering more comprehensive financial solutions to Cambodians."
He further added, "Our collaboration with the Royal Group is grounded in shared values of transparency, strong governance, and social conscience, which align with Prudential's core principles. We anticipate exciting developments in insurance, banking, finance, property, and social impact opportunities."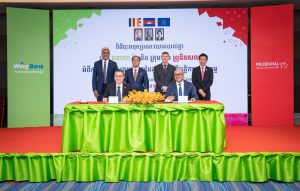 Prudential Cambodia's innovative approach, including its omni-channel digital policies and customer-focused digital strategy, aligns with its 175-year global track record of trustworthiness and excellence. Prudential Cambodia has been a leader in forging strategic partnerships and collaborations to extend our reach in the market. Our recent successes are evident in the market reports, which show Prudential's coverage of 65% market share in terms of cases issued in quarter one of this year.
Wing Bank focuses on providing digital solutions to enhance the lives of Cambodians, aiming to become the bank accessible to every Cambodian. With a unique business model of assisted digital transactions using agents allows Wing Bank 100% coverage in all the districts in Cambodia. This has enabled Wing Bank to drive financial, gender, and digital inclusion. The bank provides secure and convenient financial services to every Cambodian and is committed to promoting the benefits of digital transactions to enhance their lives.