Wing Bank Connects to CamDX to bolster its e-KYC Capabilities
September 4, 2023
Wing Bank augments its e-KYC capabilities through integration with CamDX platform to boost customer experience and fraud prevention.
Phnom Penh, 14 August, 2023 – Wing Bank, one of the fastest-growing commercial banks in Cambodia, has taken a significant step towards strengthening its customers onboarding process by recently securing the membership in the Cambodia Data Exchange (CamDX) platform.
The strategic move enables Wing Bank to enhance its e-KYC (Electronic Know Your Customer) capabilities, further streamlined onboarding processes while bolstering anti-fraud measures.
CamDX, inspired by Estonia's X-Road, is an information technology platform established by the Royal Government of Cambodia. It facilitates data exchange among different public and private sector systems via Application Programming Interfaces (APIs), utilizing digital connections.
Through its membership in CamDX, Wing Bank reinforces its e-KYC capabilities by enabling real-time verification of customer KYC documents against the database at the Ministry of Interior of the Kingdom of Cambodia. This integration ensures enhanced security and mitigates the risk of fraudulent activities. Wing Bank officially joined the platform on April 26, 2023.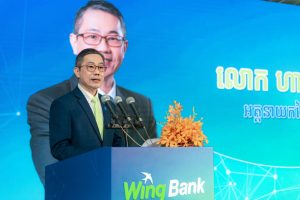 Han Peng Kwang, CEO of Wing Bank, said, "By becoming a CamDX member, Wing Bank has positioned itself at the forefront of the digital revolution, leveraging technology to redefine customer onboarding process, combat fraud, and drive financial inclusion."
He further emphasized, "With our strengthened e-KYC capabilities, we are committed to delivering a seamless and secure onboarding experience for our customers, fostering trust and confidence in our digital banking services."
e-KYC technology enables organizations to digitally verify customer documents by cross-referencing them with validated databases. The implementation of robust and secure e-KYC capabilities aligns with the Cambodian Government's Digital Economy and Society Policy Framework 2021-2035 agenda, a paramount objective for the banking sector.
In a collaborative effort to promote e-KYC adoption in the banking and finance sectors, the National Bank of Cambodia (NBC) and the Techo Startup Center (TSC) of the Ministry of Economy and Finance joined forces last year.
H.E. Dr. Kong Marry, Undersecretary of State at the Ministry of Economy and Finance and Chairman of the Inter-Ministerial Working Group on e-KYC, was reportedly as saying, "Previously, the private sector, particularly the banking sector, proposed linking with government data for customer identity verification through the government-private sector forum.
"In response, the Ministry of Economy and Finance established the e-KYC system as a mechanism to connect with the Ministry of Interior's identification information." He pointed out CamDX, officially launched by the government in June 2020, ensures data encryption, digital signatures, and timestamping of data exchanges for safety, integrity, and accuracy. The platform was honored as the 2022 Open Source Adaptation of the Year by the Future of Government Awards, a collaborative effort between Amazon Web Services (AWS), the UN Development Program (UNDP), and Apolitical.
Financial and digital insider view CamDX not only as a means for e-KYC verification but also as a facilitator for Online Business Registration (OBR) platform and an attractive environment for investments in the Kingdom.