Wing Bank opens new branch in front of Orkide The Royal along Street 2004
March 16, 2023
Wing Bank celebrates its first anniversary launching its commercial banking business with the launch of a brand-new branch.
Exactly one year since officially launching its commercial banking license on 14th March 2022, Wing Bank today has launched a new branch in front of Orkide The Royal along Street 2004. The launch was presided over by  H.E. Rath Sovannorak, Assistant Governor and Director General of Banking Supervision at the National Bank of Cambodia, Lok Chumteav Hun Mana, Neak Oknha Kith Meng, Chairman of Wing Bank, and the CEO of the Royal Group of Companies, as well as other esteemed dignitaries.
After a year since officially launching as a commercial bank, Wing Bank has proven itself as a trusted partner, one that Cambodians can rely on to protect their savings. Today the bank has attracted over half a billion US dollars in deposits and over a million app users. It offers one of the best deposit interest rates in the country, an instant unsecured digital loan service, and works with over 10,000 payment merchant partners.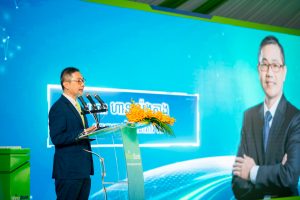 "We could not have achieved this without the unwavering support of our customers, partners, and stakeholders," said Han Peng Kwang, CEO of Wing Bank. "We will remain committed to provide the best banking solutions to our fellow Cambodians, and to live by our motto: Wing Bank, the Bank for Every Cambodian."
In the span of just a year, Wing Bank has launched more than 10 branches nationwide, helping to fulfil the growing demand for financial services. In 2022 alone, the bank launched its Independence Monument, Sen Sok, Wat Phnom, Tuol Kork, Boeung Trabek and Preah Yukunthor branches in Phnom Penh, with another branch in Sihanoukville. Before the end of the first quarter of 2023, Wing Bank launched new branches in Battambang Municipality, the Royal Group Phnom Penh Special Economic Zone (RGPPSEZ), Siem Reap Municipality, and Svay Rieng Municipality.
The Wing Bank Orkide 2004 branch will provide a full range of banking products and services, including deposits, business loans, fund transfers and more. The bank's professional and friendly staff are eager to serve a new community of both local and foreign customers.
The new branch is located at Building SHR1 No 35, Street No 2004, Phum Orchide, Sangkat Ou Baek K'am, Khan Saensokh, Phnom Penh. It is next to the entrance of Orkide The Royal along Street 2004. The branch is open from 8 am to 5 pm, Monday to Friday, and is equipped with modern ATMs for free cash withdrawals.
Recently, Wing Bank has also launched a special service for employers, whereby they can process their payroll via the Wing Bank iBanking system with zero charges. Salaries can then be accessed for free via the vast network of Wing Cash Xpress agents and in all Wing Bank branches – including the Head Office – and its ATMs. Both employers and employees are also eligible for collateral-free digital loans.
Wing Bank, the Bank for all Cambodians.