Wing Mobilises Its Staff and the Cambodian Public to Join World Cleanup Day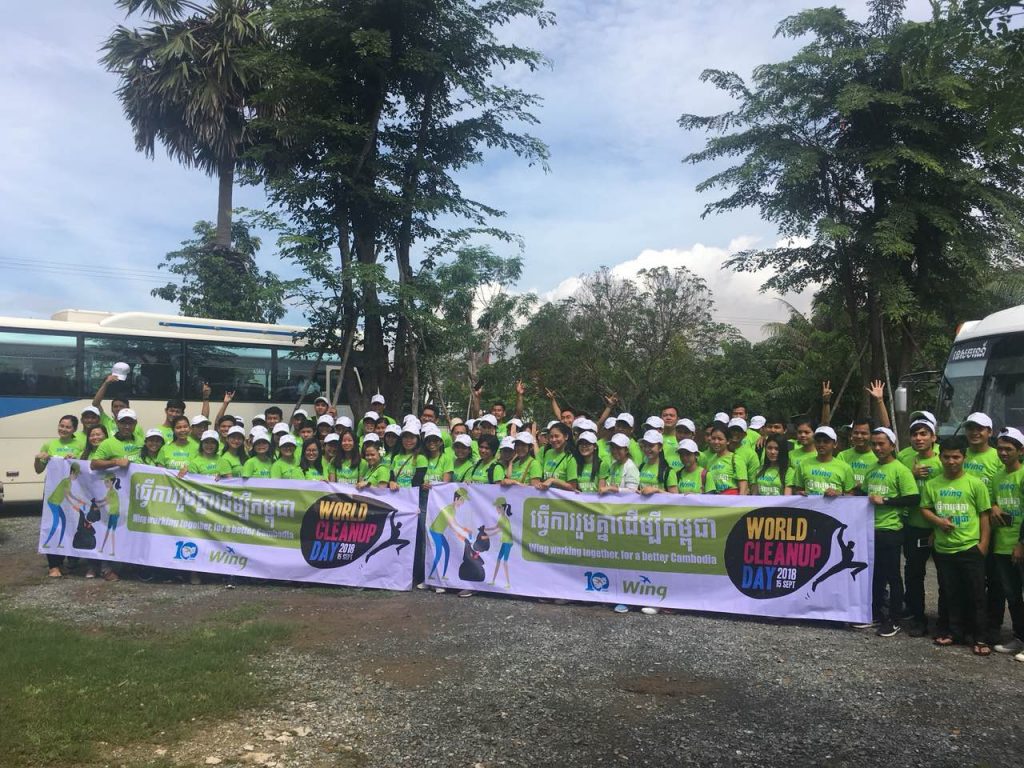 Social Responsibility, What's New
September 16, 2018
Phnom Penh, 15 SEPTEMBER 2018: Joining thousands of volunteers across Cambodia, the staff as well as the customers of Wing (Cambodia) Limited Specialised Bank have volunteered to take part in clean-up activities in Phnom Penh as part of the bank's corporate social responsibilities as well as the celebrations of its 10 years providing financial services in Cambodia.
In partnership with GoGreen Cambodia, this environment cleanup activity is among thousands of initiatives marking the World Cleanup Day celebrated by citizens from over 150 countries. The aim of World Cleanup Day Cambodia (WCD) is to clear the streets of trash, educate citizens about basic waste management and civic duty, thereby encouraging a culture of cleanliness. The event will take place nationwide and consists of cleaning up the streets of neighbourhoods, within the city and national roads 1, 2, 3, 4, 5 and 6.
In Cambodia, following the slogan "Working Together for A Better Cambodia", about 200 of Wing staff and its customers will participate by helping to pick up the rubbish along national road 1, starting from Preah Monivong Bridge until Niroth Pagoda. On the same day and time, over 5,000 Wing agents nation-wide will also join this global cleanup movement by cleaning the areas around their agents.
Wing Chief Executive Officer, Jojo Malolos, would like to express his gratitude to Wing staff and agents who contribute their valuable weekend joining this cleanup activities in addition to devoting their priceless effort in serving the Cambodian population through Wing's mobile financial services.
"Thanks to the support from our staff, agents, and especially the Cambodian public who joined Wing in making this CSR activity happen. As Wing reached its 10th year anniversary, we will be giving back to the society through various CSR activities as well as promotions; therefore, please look forward to more updates from us," said Mr. Malolos.
Grace Smith, co-founder of GoGreen Cambodia said "Our aim is to encourage the nation of Cambodia to care about the environment they live in, which has a direct impact on their health and ability to thrive. Cleaning up behind you is the easiest thing, you just have to go that extra mile to install a culture of nurturing, caring about and protecting nature together for now and our generations to come."
Seang Serey, one of Wing staff who participates in the cleanup activities said "I am very excited to be able to join in this mission, ensuring that our city and country are clean. There have been a lot of news related to the effect of plastic waste; therefore, I hope that my participation will help contribute to solving the environmental issue that we are facing nowadays."
WCD is the outcome of a massive volunteer initiative called Let's Do It! pioneered in Estonia in 2008, when 50,000 volunteers (4% of the population) cleaned up 10,000 tonnes of illegal waste in just five hours. Officials estimated that the initiative saved local governments three years of work and 22.5 million Euros. The idea quickly caught on and has since spread globally. WCD in Cambodia is coordinated by Let's Do It! Cambodia and GoGreen Cambodia and in close collaboration with the Ministry of Environment, Ministry of Education Youth and Sport, and Ministry of Interior.
In 2017, 1.42 million tons of waste was produced across Cambodia, and as the population grows, more waste were generated. According to the Ministry of Environment, almost 60% of waste materials are mismanaged, among which 15.74% are plastic which will eventually end up in landfills and waterways (The Phnom Penh Post, 2017).
For more information, please contact:
Wing (Cambodia) Limited Specialised Bank
Contact: marketing@wingmoney.com