Wing hosts a Government Delegation to Showcase Advance Technology in Payment Solution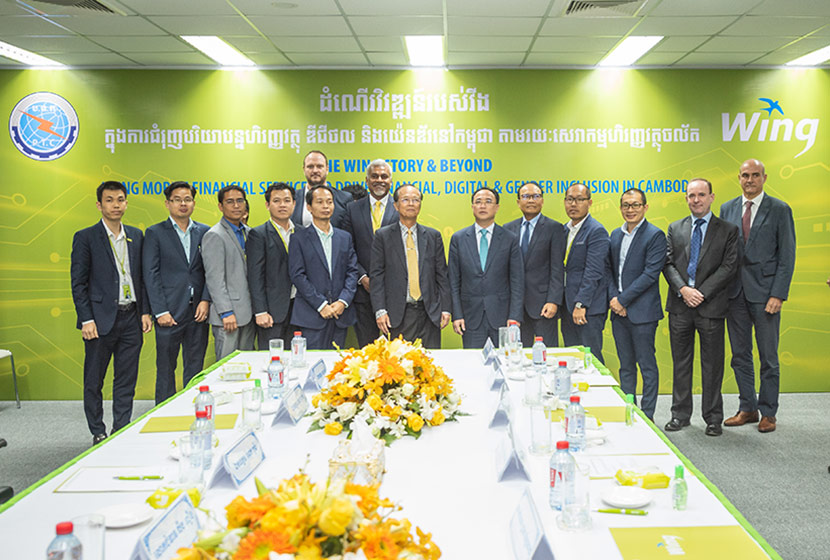 What's New
March 13, 2020
Phnom Penh, 13 March 2020–Wing (Cambodia) Limited Specialised Bank hosted a Government tour of its head office and demonstrating facilities of mobile money and electronic payment service.
The tour was led by the Chairman of Wing, Neak Oknha Kith Meng with special guest of honor, His Excellency Tram Iv Tek, Minister of Posts and Telecommunications (MPTC) and other 17 delegation of Senior Ministry Officials.
The delegates were showcased with how Wing uses cutting-edge technology in the operation of digital payment solutions enabling to support e-commerce and e-governance so as to support the Royal Government of Cambodia's initiative of developing a Digital Economy.
"I am very impressed by how Wing has deployed advance technology and know-how to grow Cambodia's economy through its financial ecosystem," H.E Tram Iv Tek said. "Digital payment solution is a global trend which is very crucial in promoting sustainable and inclusive growth while Cambodia is embracing digital economy."
Launched in 2009, Wing, with a network of over 7,500 Wing Cash Express agents' country wide, is now one of the most recognizable and trusted brand in the mobile money and electronic payment services market in the kingdom and has partnered up with over 40,000 merchants and industry leaders, with likes of Mastercard, Western Union, MoneyGram, Wechat, and Alipay.
"As one of leading mobile banking service providers in Cambodia, we are very delighted that our daily business operation contributes to the current and the future development of Cambodia's social economy," said Neak Oknha Kith Meng. "Wing has been living with our vision providing every Cambodian with convenient, secure, and instant access to mobile financial services relevant to, and for the improvement of, their daily lives."
With over 5Million customers, most of who are unbanked, Wing supports the Cambodian economy by facilitating transactions worth close to 90% of the Country's GDP through over 130Mn transactions last year alone.
"Wing always places great emphasis on outstanding performance striving to maintain efficient and effective business operations throughout the organization so as to sustain innovative financial solutions to fulfill daily needs of Cambodians, "said Manu Rajan, CEO of Wing.
Besides providing basic services like money transfer, bill payment, phone top ups, online and offline cash payments through a robust mobile banking ecosystem, Wing offers outbound money transfer service into Philippines, Vietnam, Thailand, and South Korea beneficial to Cambodians in Cambodia as well as migrant workers in more than 200 countries across the world. They use Wing's International Remittance partners to send money cost effectively back to Cambodia into the Wing accounts of their family members.