Wing Offers Cashless Payment via Taxi Phumi App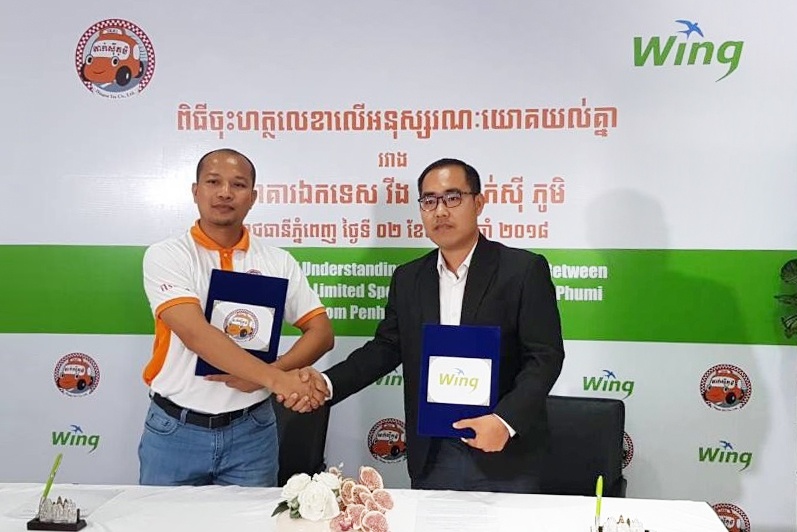 What's New
May 4, 2018
Phnom Penh, May 02, 2018 – Having seen an instant increase of transportation booking via mobile app, Wing has partnered with several group and is happy to announce the first instant cashless payment with Taxi Phumi, one of the local most advanced transportation booking apps.
The Partnership will provide a new level of convenience to customers who regularly travel via taxi, tuktuk and moto taxi. Taxi Phumi app allows the passenger to provide tip within the app and with Wing the payment is swift and exact up to the last cent. There are 2 payment process available, (1) is to top-up your Taxi Phumi wallet points by entering your Wing Account and set-up prior the ride, with this the fare is instantly deducted from your Taxi Phumi wallet and (2) by choosing Pay with Wing every after ride and filling up the security information to charge your Wing Account.
"We at Wing, aspire to create a viable and profitable cashless ecosystem of agents, partners, consumer, corporate, SME and micro merchants and institution that penetrates both city and small communities. Through this process, customers have the freedom. They do not need to worry about the cash in their pocket as they travel or the small bills or change they receive after paying their fare," said Sotheary Van, Head of Merchant Sales at Wing.
"This is a continues effort to provide innovation and technology to our fellow Cambodian people from Wing, in addition to various mobile payment services that the company created to provide Cambodian convenient access to mobile financial services relevant to, and for the improvement of their daily lives." Mr. Van added.
To celebrate the partnership, the customer will receive a massive discount on their travel expense, which is up to 70%, whenever they choose to do payment via Wing account. The promotion will be offered to any customers who has Taxi Phumi App from today until the end of August.
"Wing and Taxi Phumi share the same vision of providing innovative products to our fellow Cambodians. With our Taxi Phumi App, we provide convenience and assures our customer a safe and convenient journey. At the same time we take care of our partnering drivers making sure that they are paid instantly through their Wing account. With this partnership we offer our customers up to 70% discount on their ride. At the end of their journey when they pay with Wing, a spin-wheel will pop up on their App, allowing customers to spin and get a cashback on their ride." said Cleomara Mom, CEO of iTsumo Tec Co., Ltd., an operator of Taxi Phumi App
"We hope that this partnership will help all Taxi Phumi customers to enjoy the ride across many areas in Cambodia with an acceptable price charge and promotional offer." Mr. Mom said.
Cashless payment via Pay with Wing with other transport App is also available through WingMoney App and feature phone through USSD *989#. In order to use Pay with Wing service customers are required to have a Wing account. Getting a Wing account can be done in an instant. Customer can download the WingMoney app and fill in the required information, or go to any Wing Cash Express agent to get an account. Don't forget to cash-in at any of Wing's agent nation-wide. With Wing's account, customers can choose various option of cashless payment such as bill payment, online payment, phone top-up, money transfer, and more.
Highlights of partnership:
Swift payment (real time and instant)
Total control of your money
Cashless payment