Congratulations to the winners of Win with Wing!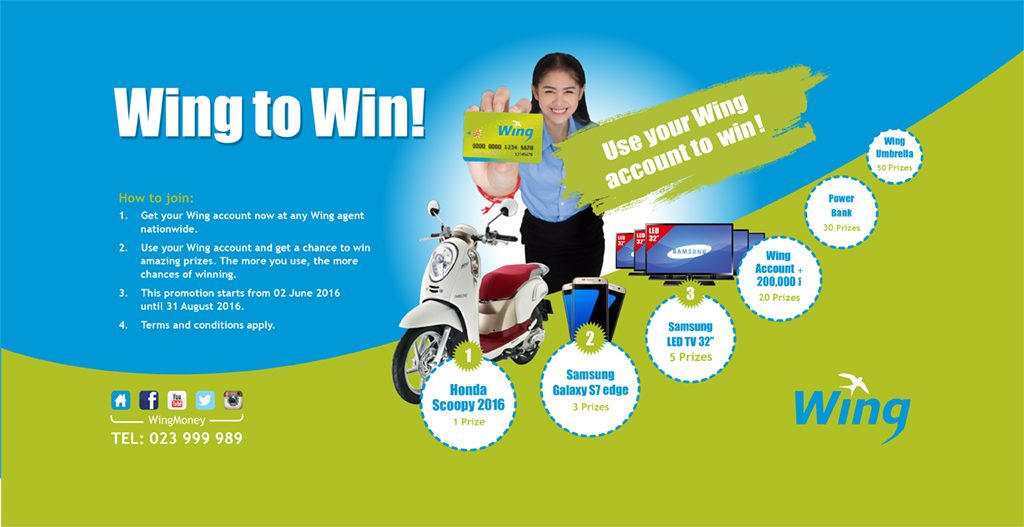 What's New
July 14, 2016
Phnom Penh:  Wing (Cambodia) Limited Specialised Bank selected the lucky winners for the "Win with Wing" raffle promotion on 8th July 2016 at Wing head office. The event, presided over by the Wing Product and Marketing Director Ms. Franchette Cardona, served as the venue to announce the winning entries for customers who applied for a Wing account or used any service through their Wing account, such as Money Transfer, Phone Top Up, Bill Payment, Wing Ket Luy, or Online Payment, for a chance to win great prizes like a New Honda Scoopy 2016, Samsung Galaxy S7 Edge, and Samsung LED TVs. The winners will also be posted on Kosantepheap and Reaksmei Kampuchea on 13th July 2016.
"Wing to Win is our way of saying thank you to all our loyal Wing account owners over the years. Through this raffle, we want to provide chances for them to win these amazing prizes by just continuously using their Wing accounts for their daily needs. Through this promotion, we also would like to encourage all those who do not have a Wing account yet to register for one at any Wing Cash Xpress Agent nationwide and also get a chance to win!" according to Franchette Cardona.
To join, just perform any of the following transactions: Phone Top Up, Money Transfer, Bills Payment, Wing Ket Luy, or Online Payments, to get one raffle entry. Those who do not have their own Wing account yet can also join by applying for one at any Wing Cash Xpress outlet nationwide for an affordable price of 10,000 KHR (2.5USD). Bring any of the required documents such as Cambodian ID card, Passport, Cambodian driving license, or Government Official Cards (Police/Army cards).
To use any of the Wing services above, just dial *989# on your mobile phone or download the Wing Money mobile app from the App Store for iOS and Google Play for Android.
Wing to Win is from 02nd June 2016 until 31st August 2016 for all customers and the next set of winners will be drawn on 8th of August and 8th of September 2016 respectively. The more transactions you perform, the more chances of winning!
For more information, please visit us at www.wingmoney.com or contact us at 023 999 989.