Wing's users continue to support their community through WingMall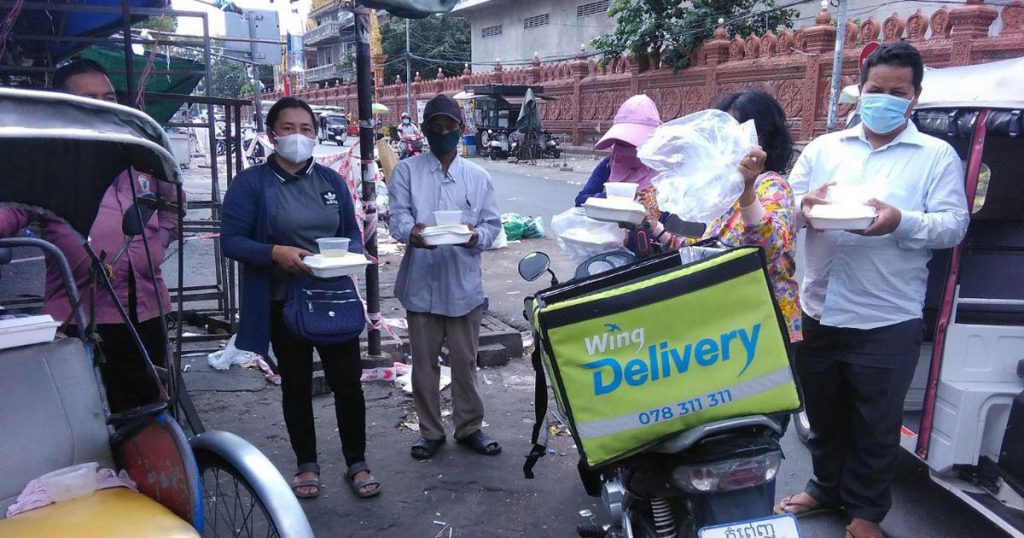 Social Responsibility, What's New
June 1, 2021
Wing Money App customers sent food to Phnom Penh's needy via WingMall.
Phnom Penh, May, 27, 2021 — Hundreds of Wing Money App users have donated readymade food and staples to many financially vulnerable people using WingMall over the last two weeks.
Thousands of people were taken off guard last month as lockdowns and curfews to prevent the spread of the pandemic affected people's ability to earn their income – particularly those in the informal economy.
"I have seen so many waste pickers and cyclo drivers along the street because they lost their ability to earn a daily wage. Sometimes, they do not have access to food because of the loss in income. My heart goes out to them," said donor Yi Sotheary.
Seeing the distress in her local community, Sotheary raised $370 with 50 friends and chose WingMall to have the goods delivered. Within an hour, 70 of Phnom Penh's most needy receive the supplies.
"The satisfaction of everyone coming together to support the community is the same as going out and handing the food out face-to-face. It just took a few clicks and we had placed an order for 70 boxes of seafood fried rice and water for cyclo drivers and rubbish pickers. I was delighted to check my phone just a few minutes later to see that the delivery team had shared photos of the donation," Sotheary added. "The most important thing is that it not only assists people in need, but the platform makes it easier for people to give back."
Chun Thorn, a cyclo driver and recipient of donations, said that the deliveries benefited migrant workers, rubbish workers and countless others who have been struggling during the pandemic.
"There have been many days since the outbreak that I have had to come home empty handed. It is so humbling that others recognize our difficulties. I got some donations along with other people who have been suffering during the pandemic so I'm extremely grateful to donors," Thorn said.
Donors simply have to open their Wing Money App, go to WingMall and enter the location, name or contact of the recipient before WingMall drivers deliver products to individuals within 30 minutes. If a donor does not have a specific person in mind, they can enter "donation" in the field for name and the WingMall Delivery person will deliver it to a needy person at the location and share the photograph of the recipient as proof to the donor.
WingMall Chief Business Officer Saksham Shubham said that donation process was designed to serve as a bridge between donors and beneficiaries.
"This initiative is meant to help reduce the burden on countless families. Not only does it help those in need, but it also shows our solidarity as a nation to help each other during this difficult time," said Shubham.
WingMall customers can shop from thousands of outlets in Phnom Penh with a myriad of food and drink options available.
Donors will be rewarded a special discount and free delivery for their generosity. All Wing Money App can continue making donations via WIngMall.