Wing Bank Celebrates Pchum Ben with 200 Monks
October 23, 2023
Wing Bank unites its management and staff to support monks in Kampong Speu Province.
Wing Bank embraced the spirit of Pchum Ben by commemorating the revered Cambodian religious festival through a heartfelt gesture of support. In a display of deep reverence for ancestral traditions, Wing Bank's employees came together to offer their assistance to a local pagoda during this auspicious occasion.
"Our purpose is to relieve the monks' burden and foster employee unity while performing acts of merit on this special occasion," said Sidany Hou, Head of Employee Services at Wing Bank.
Monirangsey Ratanaram Pagoda, located in Chbar Mon town of Kampong Speu Province, accommodates over 200 monks who attend the Buddhist Secondary School. Currently, the pagoda is facing a significant challenge in terms of food supply for the monks living and studying there.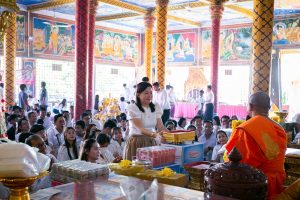 She added, "Though our contribution may appear modest, it serves as a beacon of inspiration, urging everyone to step forward and make an indelible mark on our community. Together, we possess the power to make our community better."
During this auspicious occasion, Wing Bank not only fosters unity and compassion among its management and employees, but also contributes to cultural and religious traditions. They have generously allocated a fund of 15 million riel. Some of the funds were given to support the pagoda, while the rest was used to purchase essential necessities such as rice, drinks, noodles, sardines, and more. These contributions support the daily needs of the dedicated monks.
Sokban Kong, an enthusiastic Wing Bank employee, expresses her joy in participating in the Pchum Ben celebrations, embracing the chance to engage with colleagues, pay respects to ancestors, and seek blessings.
Pchum Ben, a 15-day religious festival, holds immense cultural importance as Cambodian Buddhists visit pagodas to pay homage to ancestors and make offerings to monks, believing it brings blessings and merit to both the living and the departed.
Consistently striving to unite and foster camaraderie among employees, Wing Bank values its employees as the main pillars of the organization. By providing a positive working culture and enabling employees to pursue their career aspirations, Wing Bank is honored as the Best Employer Brand 2023 by the Employer Branding Institute, World HRD Congress for the third consecutive year. This prestigious recognition reaffirms the bank's unwavering commitment to its employees.