As a valued employee of a member company of the Royal Group (RGC), we understand that you may sometimes experience financial challenges that need a quick resolution. Wing Bank is here to offer you a helping hand through our Wing Digital Loan, you can get the funds to cover unexpected expenses, consolidate debt, or make a large purchase. With Wing Digital Loan, you can get up to $10,000 with a loan term of up to 24 months, and there are no documents required.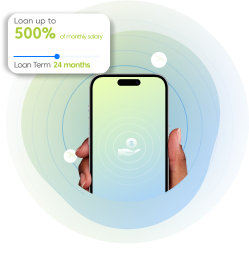 Benefits:
A loan amount of up to 500% of your monthly salary or up to $10,000.
No collateral or guarantor required.
Fast and convenient application process.
Competitive interest rates.
No processing fees.
How to get a loan?
Log in to your Wing Bank app.
Click on the "Loan" icon on the home screen.
Enter the loan amount and repayment period.
Click continue.
Review and confirm your loan details.
Requires reading the loan T&C Then click agree.
Fill in on time password that sent to phone number, then fill in pin code 4 digits.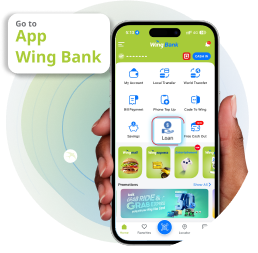 Condition
Eligibility

Be at least 18-year-old 

Must be an employee of the Royal Group of Companies and finished probation period

have a valid Wing Bank account

Loan Amount

500% of monthly salary or up to USD 10,000 

Loan Term

24 months  

Interest Rate

1% per month   

Loan Repayment

automatic​ deduction​ from​ the​ Wing Bank account or physical pay at Wing locations

Repayment Date

On the second salary or very 25th of month
Royal Group Subsidiaries៖
CBS

CELLCARD

DIGITAL SKY

EZECOM

GSS SECURITY
INFINITY INSURANCE

MOHALEAP

NITROGEN CHEMICALS

NORTHBRIDGE

ROYAL GROUP
YONG SHENG

TELEMOBILE

WING BANK (CAMBODIA) PLC

ROYAL SOK SAN

SOUTHBRIDGE
FAQs
1. What is Wing Digital Loan?

Wing Digital Loan is a short-term loan that can be used for a variety of purposes, such as covering unexpected expenses, consolidating debt, or making a large purchase. Wing Digital Loans are available to Royal Group Companies staff and offer competitive interest rates and flexible repayment terms.

2. Who is eligible for Wing Digital Loan?

Wing Digital Loans are available to Royal Group Companies staff who have a good credit score and can repay the loan on time.

3. How much can I borrow?

The amount you can borrow depends on your credit score and repayment ability. However, you can get up to $10,000 with a loan term of up to 24 months.

4. What are the interest rates and fees?

Wing Digital Loans have competitive interest rates and fees. The exact interest rate and fees will depend on your credit score and repayment ability.

5. What are the repayment terms?

Wing Digital Loans have flexible repayment terms. You can choose to repay the loan over a period of 1 to 24 months.

6. How do I apply for a Wing Digital Loan?

You can apply on the Wing Bank app.

7. Can I apply for a loan if I have a bad credit history?

Yes, you can still apply for a Wing Digital Loan for RGC Staff even if you have a bad credit history. You will get the result immediately after your application is submitted.

8. What happens if I fail to repay the loan on time?

If you fail to repay the loan on time, you will be charged a penalty fee. Failure to repay the loan may also affect your credit score and make it difficult for you to obtain credit in the future.

9. What if I have other questions?

If you have any further queries regarding Wing Digital Loans, please contact our care center via 023 888 489 or direct chat with our official Wing Bank Facebook page with the blue tick